Charles Dawson Shanly was an Irish-born poet, artist and ballad writer who emigrated to Canada and then moved on to America where he remained until he died in 1875. He built a reputation as a poet with a graceful, charming style while living the quiet life of a modest gentleman. He never married.
He was born on the 9th March 1811 in Dublin, the son of a member of the Irish bar. The family moved at least twice during Charles's early years and he received a home education from an appointed family tutor by the name of Reverend Henry Carpenter. He also attended school in Waterford and then went on to Trinity College in Dublin. His BA course was interrupted for a year due to the need to attend his ailing brother, William, who was suffering from tuberculosis in the Cornish town of Penzance. Following his brother's death, Charles returned to Trinity and completed his BA.
While living in Cornwall the two brothers spent a great deal of time sketching and Charles wrote poetry which prompted him to consider staying in England. He had some of his work accepted by a literary agent and he was tempted to take up writing full time. Instead though he went home to Ireland and then accompanied the rest of his family to Upper Canada in 1836. They lived on a fairly substantial estate called "Thorndale" until Charles volunteered to serve with the Army for a year as a commissioned officer.
Following this he was engaged as a civil servant with the Board of Public Works. His enthusiasm though lay in writing and, in 1849, he took up the editorship of a satirical magazine called Punch in Canada. His contribution of poetry, cartoons and articles was substantial and he continued with it until 1850. Seven years later he resigned from the Board of Works and moved to New York where he decided that journalism was his preferred career path. He wrote for a number of publications including the Atlantic Monthly and was instrumental in the creation of a witty journal, published weekly called Vanity Fair. Shanly soon became editor and contributed a series of articles poking fun at the US Army military tactics of General William Hardee during the Civil War. The series was called Hardee Made Easy.
Shanly was becoming a very well known, and revered, poet and amongst many of his published works was the much-quoted The Walker of the Snow. It is a haunting piece about a ghostly figure called the Shadow Hunter who accompanies the narrator while walking the snowy landscape but leaves no footprints. Here are the opening verses of this poem: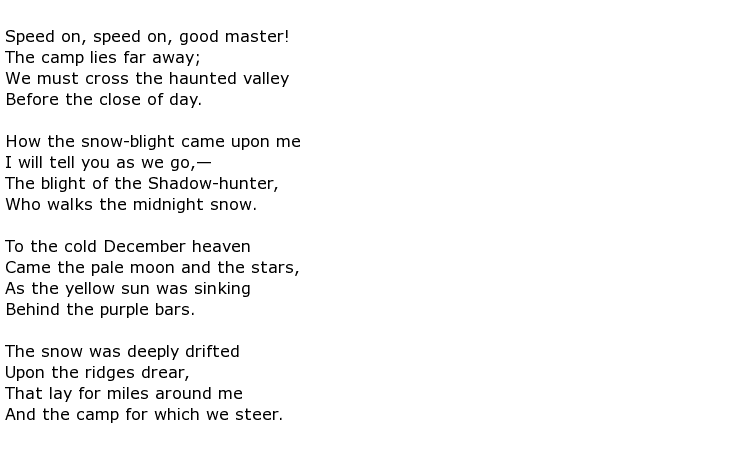 Many of his poems were light, humorous pieces such as The Truant Chicken and A Jolly Bear and His Friends, while The Lilac Tree demonstrated that he could write in a musical style. Echoing the plight of his dead brother William, Charles also developed lung trouble and was forced to move to the warmer climate of Florida during a cold February in 1875. Unfortunately it was too late. He survived for only two more months.
Charles Dawson Shanly died on the 15th April 1875, aged 64. His body was taken to the family estate in Ontario for burial.