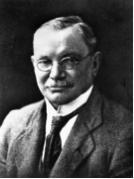 Charles Henry Souter was a Scottish born poet and artist who lived for much of his life in Australia. He was a qualified medical practitioner and worked often as a locum doctor while finding the time to make a significant contribution to South Australian literature.
He was born on the 11th October 1864 in the city of Aberdeen which lies on the north coast of Scotland. His father was a local doctor (a GP) and his mother a very able pencil drawer and water-colour artist and it soon became evident that Charles would emulate both of his parents in these two lines of activity. At a very early age he moved to Nottingham in the English midlands with his family and then moved again, while still only eight years old, to Upper Holloway in North London. Charles studied at two separate schools – Highgate and University College – and entered the Royal College of Surgeons in 1878 as a medical student, directly under the tutelage of his father.
This was interrupted though when the family moved once again, only this time by ship on the long journey to Sydney, arriving in March 1879. This voyage was an education for Charles and it provided him with a lifelong interest in both ships in general and the sea shanties sung by the sailors. The Souter family set up home inland at a place called Coonabarabran, New South Wales and Charles quickly became an expert horseman.
The desire to take up his medical studies again prompted a return to Scotland in 1882 and he became a student at the University of Aberdeen. Within five years he had married a local girl and Charles took his new wife Jane back to New South Wales in 1887. Tragically, following childbirth, she died only two years after their marriage. Perhaps to quell his grief, Souter took a job as ship's surgeon on a vessel heading for Hong Kong, returning two years later after a number of voyages in that region. He was back in Australia in 1891 and, five years later he married again, in Adelaide. He practiced medicine in a number of locations over the following decades.
His writing career began with contributions to the Bulletin in the latter years of the 19th century and he received much praise from critics and fellow writers such as H M Green and J F Archibald. Between 1912 and 1935 he produce four separate volumes of verse, beginning with Irish Lords, published in Sydney in 1912. His last collection was The Lonely Rose, published in Adelaide in 1935. He used his observations of the daily lives of South Australian farmers in many of his verses, particularly in the Mallee district. Here is a poem called Harvest Time which is written in a peculiar dialect that seems at odds with an educated medical practitioner but is typical of many more of his verses. It seems though that he worked hard to portray the authentic, slightly rough round the edges diction of that time as spoken by the farming communities of South Australia: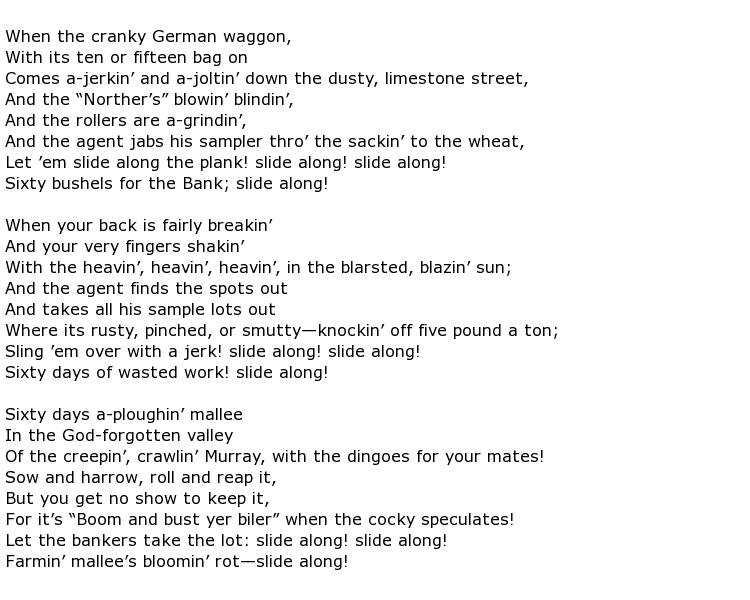 Most critics will say that Souter's poetic style was influenced by the likes of Newbolt, Noyes and Rudyard Kipling and, despite being a working doctor, he certainly made a significant contribution to Australian literature in the first half of the 20th century. He was, however, mostly employed in the medical field as a locum tenens so he will, no doubt, have found plenty of leisure time for writing poems and bush songs and sketching.
Charles Henry Souter died on the 20th August 1944 while living in North Adelaide at the age of 79.