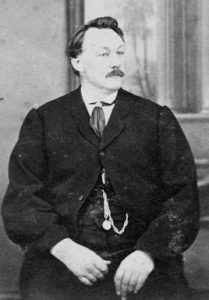 Charles Robert Thatcher, poet, songwriter and singer, was the son of an antiques dealer from Bristol who, at the age of 21 became interested in the upsurge in gold mining in Australia. He went with friends to Melbourne to try to make his fortune. After several unsuccessful attempts at the Bendigo digs they eventually hit the jackpot. Thatcher's share of the claim was £1000, a not inconsiderable sum at that time. He promptly abandoned the dig as he declared himself satisfied with the fortune he had made.
As he dug for gold though he was all the while composing songs and ditties. He was a gifted writer of lyrics and his speciality was to make up new words to popular songs. He also wrote his own words to entertain his friends at the dig sites. An example of this early promise is here and it is a poem which gives encouragement to all those seeking their fortunes:



Thatcher was not above using his songs as vehicles of protest particularly against the police and licensing authorities who would often come to the dig sites to examine paperwork. The chorus from his song "Where's Your License?" was regularly chanted by diggers in order to taunt police:


After deciding that a life of hard manual labour was not for him he joined the orchestra at the Royal Victoria Theatre and continued to entertain audiences in between musical pieces with his original songs. These would cover everything from cricket and horse-racing to nuisance dogs and troubles with friends. Thatcher proved to be a very popular singer with a unique ability to write and perform catchy songs.
Many of his songs were published individually in newspapers but many were also published as collections and examples of Australian folk songs. He said that he wanted their legacy to be



These collections were entitled The Dunedin Songster, Auckland Vocalist – both published in 1862 and Songs of War published in 1864.
Thatcher was not above expressing his opinions about what he saw as the potential perils of rising immigration into Australia as he wrote in his poem Chinese Immigration: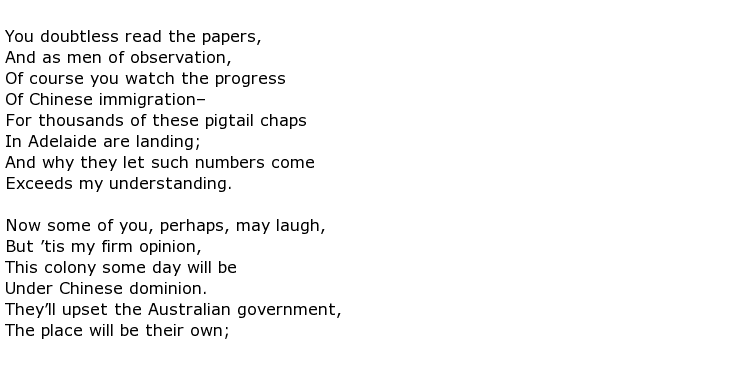 In 1861 Thatcher married singer Annie Vitalli and they had two daughters. They moved to New Zealand where they resided until 1866. They moved between New Zealand and Australia several times over the following years although his final trip to New Zealand was taken alone. He reunited with his family and they moved to London, England in 1870 where he collected and sold curios for a living.
Charles Thatcher died from cholera in Shanghai, China in September 1878.