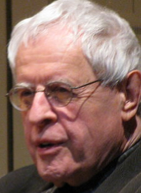 Charles Simic is a Serbian-born, Pulitzer Prize-winning American poet and university lecturer.  He has taught at the University of New Hampshire since 1973 and is currently professor emeritus of American literature and creative writing.  He was nominated three times for the Pulitzer award, winning it once in 1990 for The World Doesn't End, but his greatest achievement came in 2007 when he was appointed 15th Poet Laureate Consultant in Poetry to the Library of Congress.
He was born Dušan Simic on the 9th May 1938 in Belgrade which, at that time, was in Yugoslavia.  This was a dangerous time to be in Europe and he found himself evacuated several times from his home when the bombs started falling.  The Second World War had a profound effect on his life but he accepted with some stoicism the privations and the constant upheaval.  Much later he said of this time that



He also, tellingly, said that his


They all somehow survived and, in 1954 at the age of 16, Simic emigrated to America and the family were reunited in Chicago.  This process was not without difficulties of course.  His father had left Yugoslavia to work in Italy and his mother tried several times to get her children out of the country.  The communist authorities refused permission countless times but she persisted and they travelled originally to France before finally getting to America.  Ironically he found himself affected by military matters once more when, in 1961, he was conscripted into the US Army.  Five years later he was awarded a Bachelors' degree at New York University but was only able to afford the tuition fees by taking a night job.
His ambition was to become a poet and he became well known in this field during the first half of the 1970s as a writer of terse, imagistic poems.  He adopted a minimalist style while writing poetry on such subjects as philosophy and jazz and his reputation earned him the position of poetry editor on a New York-based literary magazine called The Paris Review.  When he was selected to fill the post of Poet Laureate the Librarian of Congress, James Billington, said that Simic deserved this honour because of



A typical example of Simic's often surreal, complex work is the poem Paradise Motel which begins with images from his childhood of soldiers on the streets, with terror and confusion everywhere.  But then, in the final verse, it switches to a lonely motel room with the occupant bleakly watching an offering on one of the adult channels, sitting in darkness, overwhelmed by the pinkness of the images on the screen.  Here is the poem: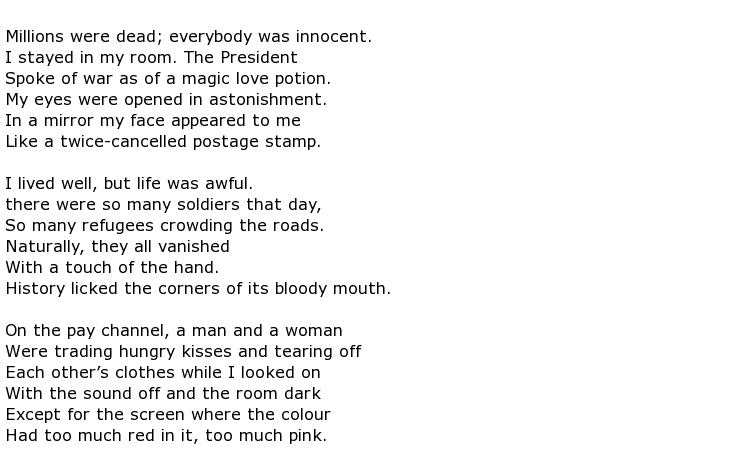 Simic's literary output has been considerable, including his own compositions and translations into English of famous poets from his homeland.  Many of his collections have strange names such as



published in 1967,



and



in 2008.  He was awarded the Frost Medal in 2011 which is an annual award to one poet for "lifetime achievement in poetry".
Simic is now in his late seventies but continues to write and his work can be found in publications such as The New York Review of Books.