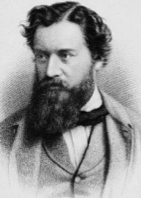 Charles Stuart Calverley was a 19th century English poet. His sometimes witty pieces led him to be known as the



He came into the world on the 22nd December 1831 in the Worcestershire town of Martley with the surname Blayds. His father was a church minister who changed the family name back to Calverley when Charles was 21 years old, this being the family's original name before Blayds was adopted in 1807. He went to the prestigious Harrow School before going up to college in Oxford in 1850. He excelled at Oxford in everything that he did, being both a brilliant scholar and sportsman, and he was hugely popular amongst his fellow students.
It was clear from the start that Blayds, as he was then known, had a talent for poetry and, during his second year, for his Latin verse, he was awarded the Chancellor"s prize. There is a story that suggests that his friends locked the door to his rooms, with Blayds inside, and would not release him until he had written what they predicted would be the prize-winning piece. However, despite his talent, he fell foul of the college authorities and reverted to the surname Calverley moving to college in Cambridge a year later. Remarkably he repeated his achievement at Cambridge, becoming the sole undergraduate student to win the Chancellor"s prize both at Oxford and Cambridge.
His success at both colleges was based on his mastery of English, Latin and Greek literature. In 1858 he became a fellow of the college and was working hard on a collection of poetry called



This was published in 1862. For a time it looked as though he might take up a legal career. He took the bar in the year 1865 but was prevented from establishing himself in this profession due to an accident which crippled him and he lived his latter years as an invalid.
This did not prevent him from producing a substantial body of work though and he is best known for a poem called



which can still be seen to this day reproduced on a plaque attached to the wall of a Cambridge building that was formerly a  tobacconists premises. Here are the final two verses of this poem with the proprietor's name mentioned at the end: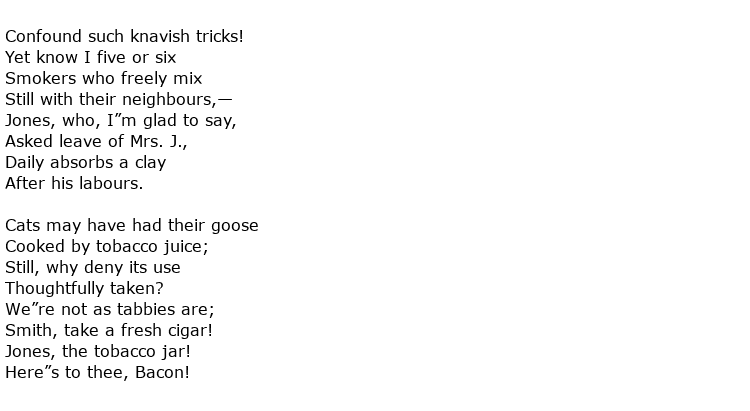 He translated works by the likes of Theocritus into English in 1869 and, three years earlier, he produced a collection called



Seventeen years after his death his brother in law Walter Joseph Sendall published Calverley's Complete Works. Sendall, who was a fellow student at Cambridge, added a biographical note.
Calverley earned much praise for his often elegant and sometimes humorous work and the biographer and politician George W. E. Russell was quoted as follows:



He never really recovered from his earlier accident and what could have been a brilliant career was blighted by poor health during his later years. Towards the end he developed a kidney condition known then as Bright's disease which eventually led to his early death. This condition is commonly known nowadays as acute or chronic nephritis.
Charles Stuart Calverley died on the 17th February 1884 at the age of 52.