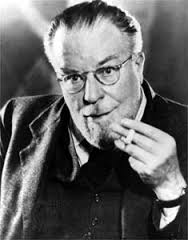 Born in Pennsylvania in 1890, Christopher Morley was a poet and writer who produced a number of notable works and is more widely known for his novels Parnassus on Wheels and the critically acclaimed Kitty Foyle which was later made into an Oscar winning film.
Morley's father was a mathematician but it was his violinist mother who engendered his love of music and poetry. When the family headed for Baltimore in Maryland at the turn of the century, Morley proved to be a precocious student and, in 1906, went to Haverford College. His graduation 4 years later opened many doors for him but he opted to travel abroad to England where he went to Oxford University and studied history.
After successfully completing his degree, Morley came back to the United States and settled in New York. He had begun writing seriously whilst at Haverford College and published his first collection of poems, The Eighth Sin, whilst at Oxford. In New York he started working for American publishers Doubleday and married his childhood friend Helen Fairchild. They would have four children together including Louise Cochrane who would become a television producer and creator of the children's series Rag, Tag and Bobtail.
After working for Doubleday as a reader for some time, Morley found a job as editor on a journal. That same year in 1917 he published his first novel, Parnassus on Wheels, which was about a traveling book business sold to Helen McGill, fed up with looking after her brother who wants to be an author but lacks the inner drive.

Morley moved to Philadelphia with his family and began work as a journalist before returning to New York again, writing a column for the Evening Post. During his lifetime, Morley wrote some 100 books and poems and was most well-known for his novel Kitty Foyle which was made into a film and later won an Oscar. It tells the story of an everyday girl who falls in love with a rich boy and was noted for sexual content at the time that verged on the sensational.
Morley was also a fan of Sherlock Holmes and wrote a range of essays and articles about Arthur Conan Doyle's sleuth and was instrumental in setting up the appreciation group called The Baker Street Irregulars. He also wrote the introduction to a new version of Shakespeare's plays and was asked to serve as a judge for the newly formed Book of the Month Club.
His poems appeared in a number of anthologies and collections over the years although his one solo publication did not come to pass until 1947 and was called On Vimy Ridge.
Settled in New York, Morley bought a place on Long Island and set about building a cabin at the back of the house where he could go and write. After suffering a heart attack in 1951 though, his health deteriorated and his writing began to decrease. He finally died in 1957 at the age of 66 and was buried at Rosslyn Cemetery in New York.