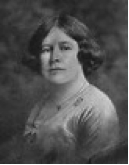 Cicely Fox Smith was an English poet known for writing maritime poetry, although not exclusively; she wrote on other subjects including travel and, along with her sister, children's novels. She was born February 1st 1882 in Lymm, Cheshire, England into a life of middle-class gentility.
Smith did not follow the usual route of the minimum education and early marriage which was expected of young ladies in the Victorian era. She relished her education at Manchester's High School for Girls and allowed herself to wholeheartedly become immersed in her writing career. She wrote articles for the magazine produced by the school and achieved early success as a poet, having a first volume published at the age of 17.
She was very patriotic from an early age and did not shy from declaring her support for the British forces during the Boer War and in subsequent conflicts. Smith was also a typical country girl and it was said that she would go after the local fox hunt on foot; unusual for a young girl at that time. When she was 19 she and her mother and sister sailed to Canada where they stayed for three years. Cicely found work – typing documents for a waterfront attorney. It was here that her interest in the sea and in those who worked on and around the sea was undoubtedly sparked and nurtured. She talked with the sailors and dockyard workers around the waterfront and learned much about nautical matters; to the extent that she could convey what she knew in her writing. Her knowledge was so extensive that her readers often presumed her to be a sailor – and of course a man.
Cicely returned to England just before the start of the Great War and from this point on her output was prolific. A good deal of her poetry at this time was about seafaring matters and this extract from her poem Lee Fore Brace is a good example of her expert insight:



When she returned to England she wrote not only poetry but also short stories, novels, history books and travel books. She also wrote a biography of Grace Darling. All were well received. Some of her work was shared with her siblings; her sister Madge wrote children's stories with her and her brother Philip illustrated several of her books. Cicely also wrote articles for several of England's most illustrious magazines including Country Life, Punch and The Spectator. When she was 67 the British government awarded her a small pension in honour of her 'services to literature'. Her writing received many plaudits from the mainstream publications at the time including The Times, The Evening Standard and Nautical Magazine.
Smith continued to write extensively up to her death, in Devon, England, on April 8th 1954.