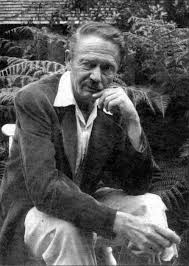 Born in 1893 in California, Clark Ashton Smith was an artist who had many strings to his bow, at once a competent painter and sculptor but also a fine writer of genre fiction such as horror and a notable poet. His talent was all the more surprising because he was largely self-taught as he suffered with a variety of mental health disorders from an early age, including agoraphobia.
Although he went to primary school, his parents thought that he should be educated at home once he reached high school age. He had a voracious appetite for books and even studied a dictionary, learning each of the words as he worked his way through. Smith had an unusual gift for memorizing things which aided the self-study he undertook whilst alone in his parents cabin in the small town of Auburn.
He began writing in his early teens, mostly adventure stories in the same ilk as Defoe and the Arabian Nights, and had produced his first short novel when he was only 14. By the time he reached adulthood he had already sold several short stories to publications such as The Black Cat. Despite his interest in the supernatural and science fiction, he was more gifted in poetry and it was to this that he devoted most of his efforts.
He became friends with George Sterling, a well-known poet from San Francisco, who supported Smith and helped him produce his first collection for publication. Smith was only 19 when The Star-Treader and Other Poems gained critical acclaim but his fame was all too transitory as his future poetry writing was affected by growing health problems. For the next eight years or so his output was sketchy with some notable exceptions.

In 1922 Smith published The Hashish Eater, which drew plaudits from the likes of fantasy writer H.P. Lovecraft, and Sandalwood in 1925. During this time he did not make much of a living from his writing and often worked hard labor jobs to make ends meet, despite his poor health. His most prolific writing period came during the Great Depression when, for the 4 years from 1929 onwards he produced a large number of short stories for various science fiction publications.
Smith continued to write prose fiction up until the late 30s when, after the death of his parents, he turned once again to poetry. This marked the end of what was called the golden period of weird fiction with the deaths of some of its luminaries such as Lovecraft and Robert E Howard. Although Smith continued to write he did not garner much financial success even when publishers Derleth continued to produce collections of his work at, both prose and poetry, at regular intervals.

Smith had a heart attack in 1953. He married at the late age of 61 and moved to Pacific Grove in California where he undertook menial jobs such as gardening and largely gave up his writing. In 1961 he had two more heart attacks and finally died at the age of 68, his ashes scattered near to his childhood home in Auburn.