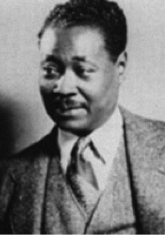 Festus Claudius McKay was born in September 1889 in Jamaica. His parents were well off but still classed as peasant farmers, although being landowners of sufficient standing they had the vote.  His father's roots were in Western Africa – the Ashanti people – while his mother's were in Madagascar.
Claude's early years were spent happily in Jamaica and he did not emigrate to the United States until he was 23 years old.  He was writing poetry at a very young age and was much influenced by his older brother, Uriah Theodore, with whom he was sent to live aged 7.  Uriah was a teacher and got the young Claude interested in classical and British literature.
In his late teenage years he served an apprenticeship to a carriage and cabinet maker and it was during this time that he met Walter Jekyll who inspired Claude to write in his own native dialect.  Jekyll took some of these poems and set them to music before assisting in the publication of Claude's first collection of poems, entitled Songs of Jamaica (1912).  Never before had poetry been published that was written in the Jamaican Patois and he followed this up with a collection called Constab Ballads.  Claude was now a police officer and the poems were based on his experience in this profession.
His move to the Harlem district of New York City saw Claude become a leading light in the "Harlem Renaissance".  Black immigrants to the United States were determined to throw off the shackles of old Victorian restrictions and ways of thinking and to make their own mark in the arts and cultural life of the city.  The renaissance spanned the 1920s and went on into the mid-1930s and Claude embraced this movement towards reinventing "the negro" in every way possible.
His most famous piece of work, the novel Home to Harlem, was published at this time (in 1928).  He set out educate people from all cultures and races of the way of life being lived by ordinary "black vagabonds" as he called them, with the frenetic nightlife of the district being particularly highlighted.  It was a gripping and sometimes sordid tale that appealed to many, though not all, and established the name of Claude McKay in literary circles.
The tensions between black and white people on all continents was a major concern for McKay and he sought to highlight them in such pieces of work as Banjo and Banana Bottom – published in 1930 and 1933 respectively.  Banjo focused on the mistreatment of black sailors by the French in Marseille while Banana Bottom was about blacks trying to forge their own cultural identities in white society.
It is not clear when he wrote his powerful poem Enslaved about the oppression of his race but I would like to include it here as a good example of how passionately he felt about the human rights of black people: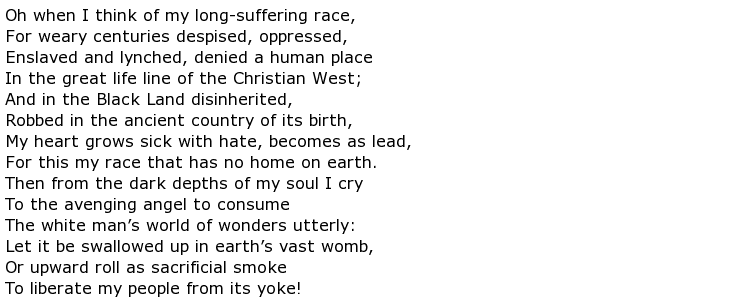 He had been, in his younger days, interested in communism but never actually followed it seriously as a viable ideology.  When, later on, he became disillusioned with it he turned to Catholicism and converted to the faith in 1944.
Claude McKay had a heart attack while in Chicago in 1948 and died at the age of 59.  A collection of his poems – Selected Poems – was published posthumously