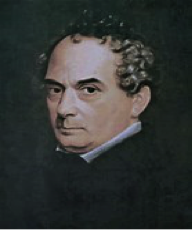 This German writer of poems, songs and novels was a man who appeared never to become settled throughout his life. He was a fiercely studious and religious man whose best work, Romanzen vom Rosenkranz, was published posthumously. Clemens Brentano was born on September 9th 1778 in Ehrenbreitstein, a district of Koblenz in Germany and was the son of wealthy Italian parents – Peter Anton Brentano and Maximilliane La Roche. His sister Bettina would later become a correspondent of Goethe, the author of Faust, and would go on to marry Ludwig Achim von Arnim, also a poet and novelist.
Brentano lived a seemingly restless existence moving around from place to place. He studied finance, medicine and philosophy in different places, including Halle and Jena, and at different times but it was said that he never took an exam and never qualified in any of these subjects. However the social circles he moved in contained many of Germany's most famous writers and poets including Goethe and Wieland. From 1798 Brentano lived in Jena which was the centre of Germany's Romantic Movement. It was here he met writer Sophie Mereau who he would marry in 1803. The marriage was short-lived as Sophie died in 1806. His second marriage was also short, ending in divorce in 1812.
Brentano always sought solace in his writing. He wrote ballads and stories incorporating typically German mystical and romanticised themes. In 1806 he wrote The Boy's Magic Horn (Des Knaben Wunderhorn) in collaboration with his brother-in-law Von Arnim. This was a collection of German songs, fairy tales and poems and was published over three editions. This collection of stories and children's songs about love, military matters, wanderings and folk legends was considered to be the ideal representation of German Romanticism and was critically acclaimed. Even Goethe said "Des Knaben Wunderhorn has its place in every household" and some poems from the collection were set to music. Gustav Mahler famously conducted a performance of Des Knaben Wunderhorn in 1905 at Vienna. One of the poems from it is entitled Reveille. Here is a short extract from it: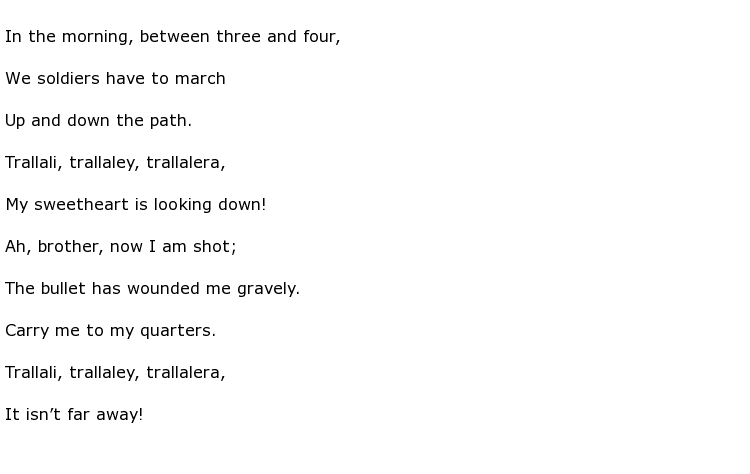 Although Brentano could be looked on as a compiler of songs he preferred to modify some of them to comply with what he thought of as authentically medieval and to write his own material to add to them whilst his partner Von Arnim tried to write in a more modern and literary style.
By 1818 Brentano had become tired of being restless and he resumed his Catholic faith. He entered the monastery at Dṻlmen where he lived in seclusion and fulfilled a role as secretary to the Blessed Anne Catherine Emmerich, a visionary nun. He remained devoted to her and after her death he compiled a volume of her visions and revelations; The Dolorous Passion of Our Lord Jesus Christ was published in 1833.
Brentano spent the last years of life working to promote the Catholic faith. He died July 28th 1842 in Aschaffenburg, Germany.