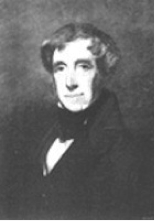 If ever there were an American poet that could be immortalised by the writing of a single poem then Clement Clarke Moore was such a man. He will not have known it at the time that he wrote A Visit from St Nicholas purely to amuse his own children but this poem, when published in a New York newspaper just before the Christmas of 1823, was to become possibly the most famous Christmas poem ever. It became more popularly known as 'Twas the Night Before Christmas and it was such a powerful and evocative piece of writing that the very origins of the Santa Claus legend have been said to have emanated from it. What a pity then that it was published anonymously, because, during the following years, others laid claim to Moore's masterpiece as having come from their own pen.
Clement Clarke Moore was born into comfortable surroundings in the Queens district of New York in July 1779. He enjoyed a good education and graduated with both BA and MA honours from Columbia College, now a University. He had a deeply religious upbringing and became a professor of Biblical learning at the age of 42 at the New York General Theological Seminary. He held this post for just short of 30 years.
He was, to some degree, a philanthropist, caring deeply about the plight of blind people and donating parcels of his inherited real estate to the Episcopal church. His English grandfather had established a large estate to the west side of Manhattan Island and, when Moore inherited it, he named the grand house Chelsea, after the Chelsea Pensioners military veterans' hospital in London. When, in 1811, the city planners decreed that a main thoroughfare should run right through his estate, Moore turned into the hard-headed businessman. He sold off plots of land to rich New Yorkers so they could build their houses near the new Ninth Avenue.
Although he became best known for his Christmas poem, Moore was a prolific writer on a great number of subjects. He wrote scholarly books on the Hebrew language, European kings and even one on the study of Merino sheep. He contributed poems to a large anthology of New York poets called The New-York Book of Poetry which was published in1837. Then, as if to verify ownership of his most famous creation, the St Nicholas poem appeared in his own collection which he called Poems.
There is no doubt though that A Visit from St Nicholas really has gone down in history as THE definitive Christmas poem and it is still read today, all over the world, often on Christmas Eve. His simple, easy to read verses were cleverly designed so that both young and old would really understand the legend of Santa Claus. The descriptions of the reindeer and the method of delivering gifts to children across the world is quite brilliant and, almost 200 years after first being written, is still a delight to read. The poem is reproduced below in its entirety:


Clement Clarke Moore died in July 1863, five days short of his 84th birthday.