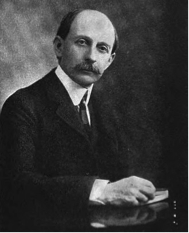 Clinton Scollard was an American poet, novelist and teacher of English. He served as Professor of English during the last decade of the 19th century at Hamilton College in New York. He was married twice, the second marriage being to fellow poet Jessie Belle Rittenhouse, with whom he collaborated on a number of writing projects.
He was born on the 28th September 1860 in the Clinton district of New York. He studied at Hamilton College before later going on to Harvard University where he had several acquaintances from the literary field including Frank Dempster Sherman and Bliss Carman. As well as being an able academic, Scollard was also a college sportsman, excelling at baseball and being the man who introduced the curveball to the game. The fact that he did so well at sport was remarkable as, during his childhood, he had suffered from a debilitating illness. He also had a post-graduate year in England at Cambridge University.
Scollard spent most of his life as a creative writer and his output of poetry was substantial without ever being outstanding. He was technically very good, ensuring that the construction of his work was always just right, but he was never considered to be anything more than a minor American poet. Much of his work was a result of his acute observations of the natural world. He began his poetic life, like so many others at that time, using a French style of verse construction and his first collection, published in 1884 under the title Pictures in Song, reflected this style of writing.
A second collection, With Reed and Lyre, contained the much anthologised poem As I Came Down From Lebanon and this is generally recognised as his most famous piece of work. It is a lyrical piece, describing in accurate detail his observations of a middle-eastern land. Here are the opening verses of the poem: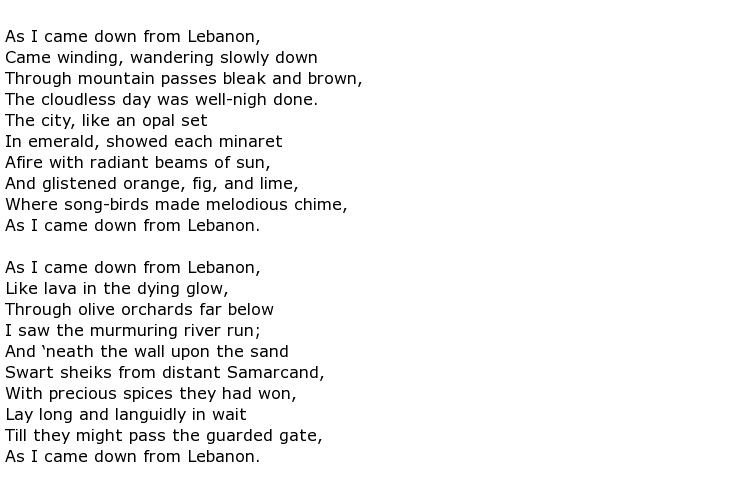 This established Scollard's name in American literary circles as much of his work found its way into publications such as Scribner's, Atlantic Monthly and Century. Two further collections of poetry followed: Old and New World Lyrics, published in 1888, and then Songs of Sunrise Lands, both inspired by his travels abroad. He was able to pass on his knowledge to students at his old college at Hamilton during the 1890s and then, in 1911, he took the chairmanship of the English department.
Besides his poetry, Scollard wrote six novels including four historical ones featuring Italy. In 1912 though he made the decision to give up publishing books and, instead, concentrated on pamphlets on a number of subjects, usually written for his friends. Despite the great volume of work that he had produced he was only ever considered to be a minor poet and his own (unfinished) autobiography confirmed that he, himself, agreed with that assessment. It would have been called The Adventures of a Minor Poet. Despite this there is no doubt that he was a very able poet, relying a great deal on his memory of trips abroad and being able to successfully describe what he experienced, usually in great detail.
Clinton Scollard died some time during the year 1932, aged 71. His health had never been good throughout his life and he finally succumbed to heart disease.