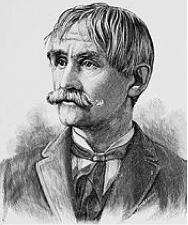 If ever the description "the man had a full life" could be levelled at someone then that man would have to be Coates Kinney. During the 19th century he was, at various times a wistful and skillful poet. For a short time he was a politician, filling the role of Senator in the State of Ohio for two years. He was a lawyer in Cincinnati and worked as a journalist on several publications and newspapers. He served in the US Army during the American Civil War as a commissioned officer, achieving the rank of Lieutenant Colonel in the appointment of Paymaster. Finally, he held several school teaching posts.
Coates Kinney was born on the 24th November 1826 at Keuka Lake in Yates County, N.Y. At the age of thirteen the family moved to Ohio where Kinney showed that he had a strong thirst for learning. He had temporary periods of employment in a woolen factory and a sawmill but he saw better things ahead for himself. After attending the Springboro Academy, which was a boarding school, he went on to Antioch College in Yellow Springs, Ohio and took up language studies, but this lasted only one year. He spent a number of years studying the law and writing while also finding the time to teach at various schools in Ohio.
His ambitions lay firmly with becoming a lawyer and he read law at a firm in Lebanon, Ohio along with studying under a court judge at Bellefontaine. Finally, at the age of thirty, he was admitted to the bar and practiced law for three years before transferring his skills to journalism. He wrote for papers such as the Ohio State Journal and the Cincinnati Times. This was all halted though with the onset of the Civil War and Kinney served his time in the US Army from 1861 to 1865.
Politics was his next port of call and he served as a delegate on the presidential nomination convention, putting forward Ulysses S Grant for President in 1868. Between 1882 and 1883 he was an Ohio senator. Throughout all of this though he made the time to write poetry and he had two collections published: Keuka and Other Poems in 1855 and Lyrics of the Ideal and the Real in 1888. One of his most famous poems, written in 1849 was the lilting, and haunting, The Rain on the Roof. It could be said that this poem established the name of Coates Kinney as a popular poet. Here is the poem: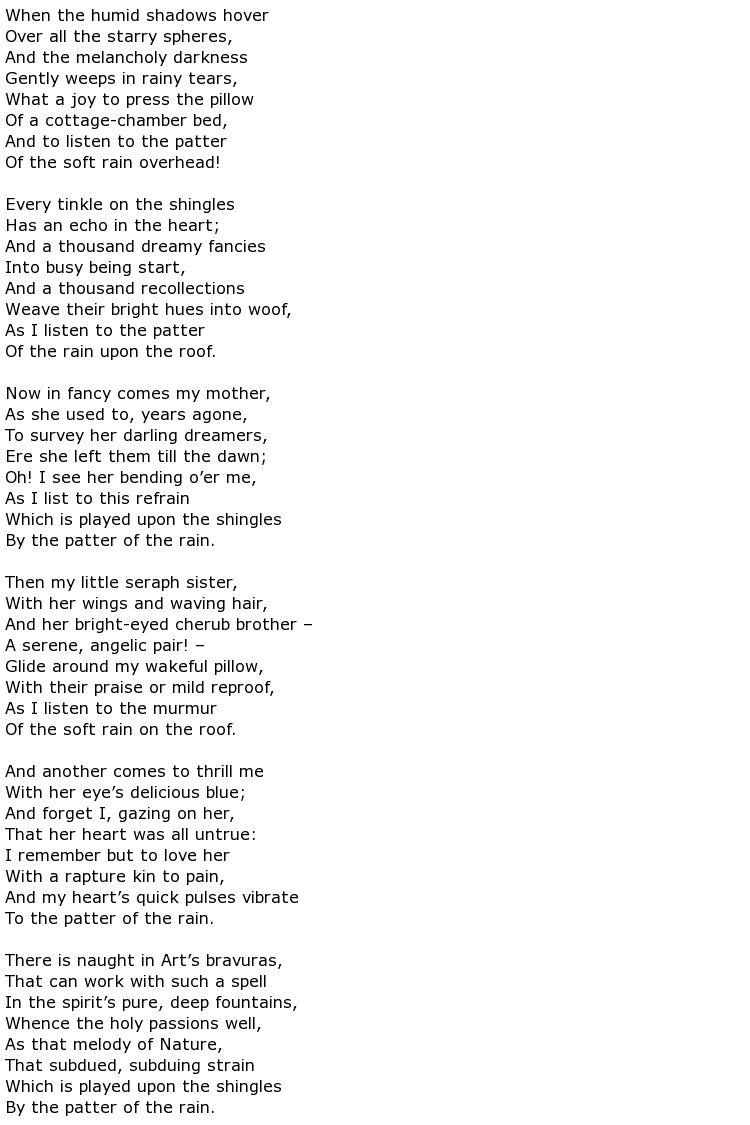 Coates Kinney, to a stranger's eye, was every inch the military man. If you were to pass him in the street you would see a man with an officer's bearing striding along, looking every inch the off duty soldier. And yet, despite his steely exterior, he was described as:

He was twice-married and his second wife bore him three daughters.
Coates Kinney died in Cincinnati on the 25th January 1904, aged 77.