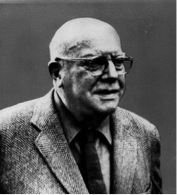 Conrad Potter Aiken was an American poet, short story writer and novelist of the 20th century who, at the age of 11, survived the tragedy of finding his parent's bodies after his father had shot his mother and then turned the gun on himself. A multi-prize winning author, his collection of poems called Selected Poems won him the Pulitzer Prize in 1930.
He was born on the 5th August 1889 into very comfortable circumstances in New England where his father was a much respected brain surgeon and physician. All appeared normal until the fateful day in February 1901 when he was in the house and, hearing shots from another room, he then had the dreadful task of finding the bodies of his parents. It was so unexpected but Conrad somehow lived through the trauma, subsequently being raised by a great aunt in Massachusetts. Private schooling was followed by Harvard University, from where he graduated in 1912. He made a lifelong friendship here in fellow writer T S Eliot.
He was encouraged in his early attempts at poetry by a teacher and philosopher by the name of George Santayana who guided him in shaping his new life after the tragic loss of his parents. As he grew older he was influenced in his writing by the European Symbolism movement and he often introduced psychological themes into his work. Notable examples were his 1934 short story Silent Snow, Secret Snow, a much anthologised piece of work, and collections of poetry such as And In the Hanging Gardens (1933) and an earlier collection Earth Triumphant, published in 1911.
An example of his darkly-themed work was a poem called Over the Darkened City. It is full of dramatic imagery, contrasting the brooding hills on one side and "the lustrous dusk of the sea" on the other, with the "city of towers" in between. Here are the opening two verses of this poem:


Aiken's work was sometimes of a much lighter genre and the poem Music I Heard was set to music by various famous composers such as Henry Cowell and Leonard Bernstein. His output was substantial, running to some 51 titles either written or edited by him. Not surprisingly his career garnered a number of awards. As well as a Pulitzer Prize he won a Gold Medal for Poetry, a Bollingen Prize and a National Book Award. He gained a Guggenheim Fellowship and was engaged as a poetry consultant by the Library of Congress between the years 1950-52, effectively becoming Poet Laureate of the United States.
Literary critics of the mid-20th century declared evidence of Aiken's deep psychological problems, citing his regular study of depth psychologists such as Jung, Freud and Rank. No one should be surprised by that though, considering his traumatic experience as a boy. Despite his serious outlook in general though, he still found the time to mentor up and coming writers such as fellow poet Emily Dickinson who he helped to become one of America's finest poets.
Aiken lived in the south east of England for a time, in Rye, which was the same town as Henry James had lived. He moved there in 1921 with his wife and they had two children before the marriage was dissolved eight years later. He married two other women following this though. He put his time in England to good use with many literary contacts being forged there over a long period of time.
His final years were spent in the American south, in Savannah, and he died there. His tomb was of an unusual design, being shaped like a bench that would encourage visitors to rest there a while. It was featured in a story which later became a film – Midnight in the Garden of Good and Evil. The movie was directed by Clint Eastwood in 1997.
Conrad Potter Aiken died on the 17th August 1973 at the age of 84.