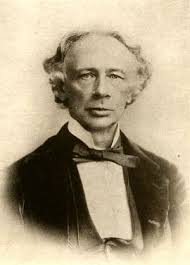 Born in Woodford, Essex, in 1823, Coventry Patmore was a critic and poet although he initially wanted to become a painter. His love of literature was encouraged by his father with whom he formed a strong and loving bond from early childhood. Indeed, in his youth Patmore won a prize for his artwork and it wasn't until he went to school in Paris for a few months that he discovered the joys of poetry.
Although his father wanted to publish some of his early works, Patmore had by the time of his return become more interested in science. His father was also struggling financially and Patmore ended up taking up a post at the British Museum, a job he would hold onto for nearly the next 20 years whilst again writing poetry in his spare time. Compared to many of his fellow poets of the time, Patmore produced his verses sparingly, saying at one time that he only wrote when he had something important to say.
In 1847, Patmore married Emily Andrews and they would have 6 children together, the last in 1860. A few years earlier, he had published his first collection of poetry, buoyed by the recent successes of Tennyson, although his own work did not receive such good reviews. So appalled was Patmore that he bought all the remaining copies of Poems and ruthlessly destroyed them.
He may have given up writing for good then if it had not been for the support of his friends and their encouragement. It gave him the strength to forge on and produce the poem The Seasons that appeared in the literary publication The Germ. In 1853, Patmore took one of the poems from his failed collection, called Tamerton Church Tower, and published it again along with some newer works.

Whilst he never reached the literary heights of most of his compatriots, nevertheless Patmore produced a solid and serious body of work. He is best known for one poem in particular which has been republished many times over the ensuing years.
Patmore's most famous poem The Angel in the House first appeared, in part, during 1954 and over time it would evolve into a long, narrative work which offers an insight into the ideal marriage, some say based on his own relationship. Whilst it did not create much of a stir on initial publication it would become one of the most popular and most widely read works of the late 19th century despite its rose tinted view on marriage.

His wife Emily died after a long illness whilst they were living in Hampstead in 1862 and it caused Patmore to examine his faith more deeply. He became a Roman Catholic and he remarried a few years later, moving to Surrey where he bought the large and imposing Buxted Hall. He wrote and published The Unknown Eros in in 1877 and then began to work more on literary criticism in his later years.
Patmore's second wife died in 1880 and he remarried again, moving to Lymington. It was there that he himself died in 1896 at the age of 73.