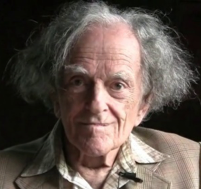 Daniel Hoffman was a multi-award winning American poet, literary critic and essayist.  He taught English at three different institutions during his lifetime, one being Columbia University where he had studied on three different degree courses.  In 1973 he became his country's twenty-second



While much of his poetry was based on events from his own life, he also wrote verse on historical and mythological themes, often merging all three into one.
He was born Daniel Gerard Hoffman on the 3rd April 1923 in New York.  He was well educated, gaining an AB (1947), MA (1949) and then a PhD in 1956, all from Columbia.  While there he was an active member of the Boar"s Head Society, a group of students dedicated to writing and exchanging views on each other's poetry.  Before all that though he had to do his military service in World War II, although he was fortunate enough to remain in the United States, working as a tech writer for the Army Air Corps.  He used his literary skills to edit an aeronautical journal.  Later in life, when writing his memoirs which were called



he recalled these times.
Perhaps surprisingly he had reached the age of 31 before publishing his first collection.  This was called



and caught the attention of W H Auden who had it published as part of the



This long-established, annual award was made to the most promising American poet and, in the preface, Auden said that the author was



Hoffman followed this with a further ten poetry collections and 7 volumes of literary critique, plus his memoir.  He was still writing significant verse at the age of 80 and a reviewer remarked that he was



His academic life included spells of teaching at Swarthmore College, the University of Pennsylvania and Columbia University. When he retired from Philadelphia in 1996 he had been the



The university's Philomathean Society honoured his work with a special anthology to celebrate Hoffman's tireless efforts in getting visiting poets to perform their work there.  The Academy of American Poets made him a chancellor emeritus and, between the years 1988-1999 he was



taking special responsibility for the maintenance of the American Poets" Corner.
One of Hoffman's major pieces of work was a book-length historical poem called Brotherly Love, written in 1981, which told the story of the Quaker William Penn who was famous for the founding of Pennsylvania.  He wrote much shorter poems as well with some only a few lines in length.  One longer piece may well have been based on an event that he had, himself, witnessed.  A crowd had gathered at the foot of a high pylon to see if a man, precariously perched at the top, would throw himself to his death.  Perhaps it was a genuine suicide attempt, or perhaps the man was just seeking attention.  In the end he climbs down, perhaps an anti-climax for the expectant onlookers.  Here are the opening verses to this poem, called The Center Of Attention: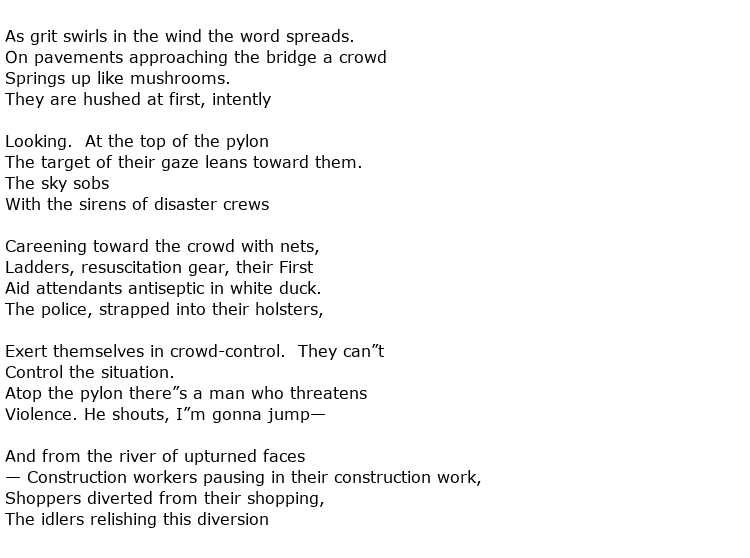 Daniel Hoffman was living in an assisted living facility in Haverford, Pennsylvania, having lost his wife of 57 years, when he died on the 30th March 2013.  He was 89 years old.