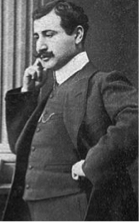 Daniel Varoujan was one of the great Armenian poets whose grave misfortune was to be born at the end of the 19th century. Like so many other Armenian men, women and children he was a victim of genocide, perpetrated by the so-called



of the powerful Ottoman empire. He was only 31 when he was forcibly marched out of his village, along with other "prisoners", and murdered.
Born on the 20th April 1884, Daniel Tchboukkarian came into the world in a district of the Central Turkish town of Sivas called Prknig. He was educated at a local school up to the age of twelve and then sent first to Istanbul and then Venice. He completed his learning at the Belgian university of Ghent where he studied economics, literature and sociology. By the age of 25 he was back in his home village teaching and, three years later, was made the Principal of one of the schools in Istanbul.
He was beginning to make his mark in Armenian literature, and he formed a group in 1914 with four like-minded friends. They produced a literary magazine with the aim of launching a renaissance in Armenian culture. They saw that their country had suffered under centuries of tyranny and dark deeds by both their own and the Turkish governments and they pledged to bring light into this darkness. Their statement of intent included the following:



Varoujan wrote a number of poems that contained a clear and heartfelt message, pleading for a better Armenia, and a better and more hopeful future for his people. No better example of this was his poem The Sowing, and here are the first four verses: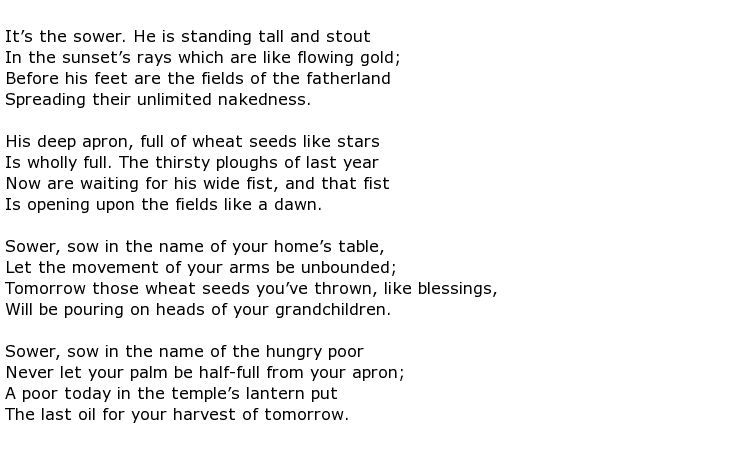 Varoujan produced at least one collection of poems under the title The Song of the Bread but he never had the chance to finish it. His manuscript somehow survived the massacres of the Armenian people, generally thought to be due to Turkish officials being bribed not to destroy it. This collection was published in 1921, six years after his death. The verses were simple tales of the rural life enjoyed by Armenian peasants in Anatolia before tragedy overtook them all.
He, and other poets like Siamanto, used the folklore and legends of Armenian history in their work. They had a simple aim, to tell uplifting stories that would give their countrymen and women hope that past oppressive regimes would not blight their lives again, and that Armenian culture would rise again. Tragically this was not to be.
As the whole of Europe plunged into the horrors of the First World War, the Armenian people found themselves being rounded up and deported to supposedly safe havens. In reality they were either starved or worked to death, or, like Varoujan, systematically murdered.
He was one of a group of prisoners who were taken to a wood outside their village, stripped naked and tied to a tree and then made to die a slow and painful death at the hands of soldiers armed with sharp knives.
Daniel Varoujan died on the 26th August 1915 at the age of 31.