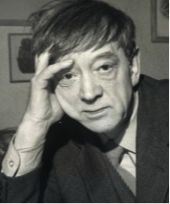 David Jones, was a 20th century English poet who was one the early exponents of the British modernist movement. He was also an accomplished watercolour painter, specialising in portraits, religious subjects and landscapes, and an occasional wood engraver. A lifetime of artistic and literary achievements earned if many honours and awards including a Companion of Honour and Companion of the British Empire. Many of his poems were long and were much acclaimed by other writers, a notable example being The Anathemata which was described by W H Auden as



He was born Walter David Jones on the 1st November 1895 in the Kent town of Brockley. His father was a devoutly religious Welshman who had moved to London to work on the Christian Herald Press as a printer's overseer. Young Walter's early ambitions were in the direction of art and, much later on, he declared that he believed he would be an artist from the age of six. A traditional education gave way to art studies at the Camberwell Art School.
At the age of 19 he not only enlisted into the Army as the First World War broke out but, unlike so many others, he lived through it. He joined a number of other war poets and correspondents while serving at the Western Front and produced a good number of poems and paintings depicting these terrible times. After demobilisation he returned to his art studies in Camberwell before moving on to the Westminster School of Art.
Jones had strong religious inclinations and, in 1921, he became a Roman Catholic. His focus was still on art but, gradually, he began to write down some observations of his experiences as a soldier and it took until 1937 before he had his first long piece published. This was an epic poem called In Parenthesis which described in vivid detail the journey of a private soldier from embarkation in England to the bloody Battle of the Somme and the famous assault on Mametz Wood. It was written in a number of styles, encompassing both prose sections and rhyming poetry, using language ranging from formal statements of fact to the colloquialisms uttered by soldiers in the field everywhere.
When this poem was published it received fulsome praise from established writers such as W B Yeats and T S Eliot and he was awarded the Hawthornden Prize for his efforts. It was a remarkable piece of work, urging the reader to share the experiences of named individuals, describing the harsh realities of their everyday lives in the trenches and on the battlefield. Here is a short extract which movingly tells of the death of one Lieutenant Jenkins who takes an enemy bullet:



Then follows at least nine lines of descriptive verse, telling how the officer died. Jones also describes in great detail the routines endured, daily, by such as a team of Lewis gun operatives:



His other major piece of work was The Anathemata, a book published in 1952 which was the author's comparison between the occupations of middle eastern regions by the Ancient Romans and the more recent by British and other European forces. It was an extremely well received poem by both the reading public and his fellow writers. Jones was one of the famous Sixteen Great War Poets who had the honour of having their name inscribed on a stone laid in Poet's Corner, Westminster Abbey.
David Jones died on the 28th October 1974 at the age of 78.