David Mallet was an 18th century Scottish poet and dramatist. He changed his name from Malloch when he moved to London in 1723, and has been described by some historians as an "unpopular" Scotsman. Perhaps the Scots did not like the fact that he anglicised his name. One of his most famous pieces of work was a masque called Alfred, co-written in 1740 with fellow Scottish poet James Thomson, which included Thomson's poem Rule Britannia. The words of this poem were set to music and became a famous patriotic song best associated with the exploits of the British Royal Navy.
He was born James Malloch sometime during the year 1705 in Crieff, Perthshire. His father was a comfortably off tenant farmer on a big estate and also a member of the Clan MacGregor, at that time an outlawed group. The family had a tough time during the Jacobite rebellion of 1715 but James was able to continue his education which led to studies at the University of Edinburgh. He left there without a degree but gained much experience while there as a private tutor, most notably to the sons of the Duke of Montrose.
At the age of 18 he took himself off to London and, while once more working as a private tutor, came into contact with many famous literary figures such the Viscount Bolingbroke and Alexander Pope. He had already met James Thomson during his time at Edinburgh and they renewed their friendship in London.
He was still in the employment of the Duke of Montrose, living at his London and country residences, and he took the children with him on a continental tour in 1727. This employment lasted for four more years until he left to take up another tutoring appointment. During the year 1735 he managed to acquire a BA degree from Oxford and an MA from Edinburgh university. More foreign travel followed before he was appointed under-secretary to the Prince of Wales in 1742. His skill as a civil servant led to the post of inspector of exchequer-book in the out ports of London and he remained in this post until his death in 1765.
From around the year 1720 his output of poetry, over the next ten years, was prolific and his most famous poem was probably William and Margaret, published in 1724. It is a tale of a the ghost of a woman who appears at her lover's bedside and entices him to her graveside, with fatal consequences. Here are the opening and closing verses of this long poem: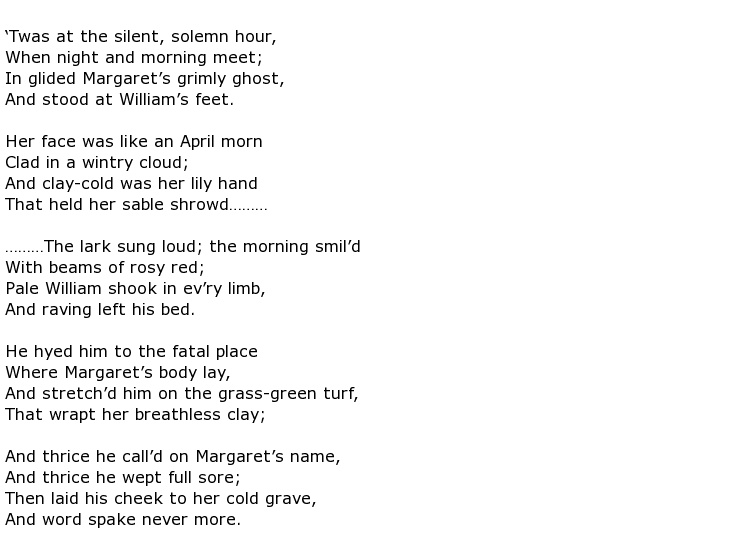 Mallet was also an accomplished playwright and, in 1731, his tragedy Eurydice was performed at a London theatre in Drury Lane. Another tragedy enhanced his reputation; Mustapha was performed again at Drury Lane over fourteen consecutive nights sometime during 1739. The following year Alfred was performed in the grounds of Cliveden, the Prince of Wales's Buckinghamshire residence.
As mentioned earlier, Mallet was never popular amongst his own countrymen and Dr Johnson described him as



Indeed, when Mallet set about concealing his origins from London society Johnson remarked that he had



David Mallet fell ill and died on the 21st April 1765 at the age of 60. He was buried in the churchyard of St Georges in South Audley Street.