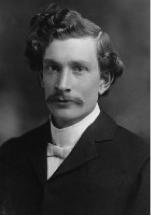 David McKee Wright was an Irish-born poet and journalist who spent much of his life living and writing in New Zealand and Australia.
He was born on the 6th August 1869 in Ballynaskeagh, County Down. His parents were both missionaries, serving in faraway lands such as Syria. The family moved to London when David was aged seven and, shortly after, he lost his mother. His education had begun at a local school in Ballynaskeagh and then continued in London. He was enrolled into the engineering section of the Crystal Palace School but attendance there was infrequent due to constant bouts of illness. Time at home was not wasted though as the young boy was a voracious reader, leading to an interest in poetry.
It was a very unsettled childhood and Wright made a habit of running away from home, usually citing his unhappiness at his father's choice of new wife. He also found their evangelical ways oppressing and they mocked his efforts at writing poetry. A final escape from this environment was not too far away as, at the age of 17, he was diagnosed with a spot on his lungs and he was sent to New Zealand to bring about a cure. Other émigré members of his family were already there and he lived briefly with them in Christchurch.
Feeling well enough to work, Wright tried his hand as a shepherd at a sheep station at Puketoi. He kept up his writing though, with several of his poems being published in the Otago Witness, and then in Christchurch Press. By now he was aged 22 and was politically motivated enough to launch attacks on Liberal government ministers such as John McKenzie. He produced satirical verses and wrote political commentary pieces for the newspaper.
The literary scene in New Zealand was in its fledgling years and many people made disdainful comments about the efforts of some of the contributors to the Otago Witness. It was a common view that 'no good thing can come out of New Zealand' and Wright was determined to prove them wrong. He was encouraged by the fact that many of his poems won prizes and his first collection, Aorangi and Other Verses, was published in 1896, but received fairly lukewarm reviews.
Wright tried to boost his education by enrolling at the University of Otago. He was studying to become a Presbyterian minister and became an outfield preacher at the end of his first year. His poetry was still being published in Otago and he had much more success with his second collection of poems. Published at the end of 1897,
Station Ballads and Other Verses finally brought him national acclaim. It was a moralising attack on town and city life with criticism levelled against the levels of crime and industrial strife amongst the workers. Country dwellers and workers were portrayed as cheerful and virtuous. His poem Shearing's Coming describes the excitement at the sheep station as shearers arrive for the arduous task ahead: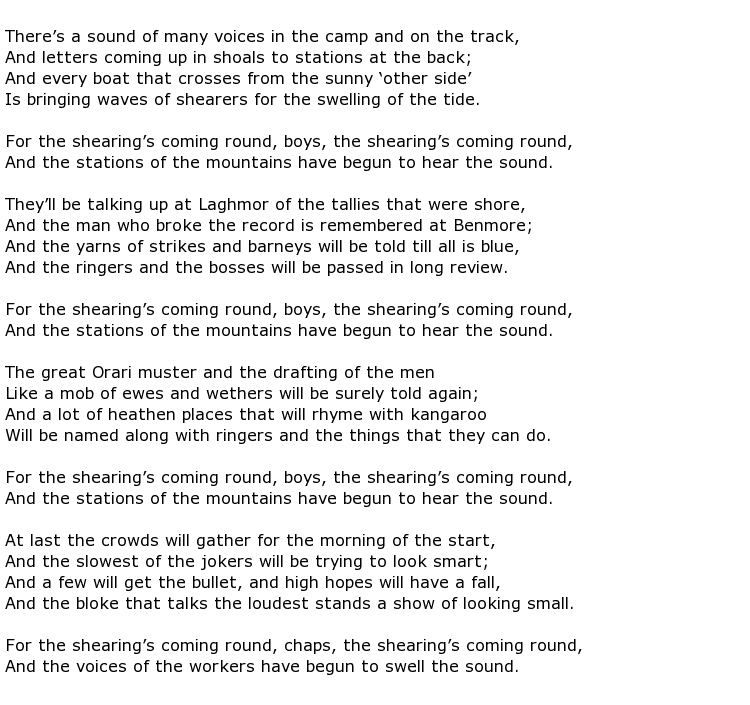 During the late-1890s, Wright became an active member of religious and temperance movements in the Otago and Oamaru areas and switched his writing skills to the composition of hymns for the congregational church. However, he turned back to poetry when he moved to Wellington. Life was hard for the next few years though and he found himself teetering on the edge of bankruptcy for a considerable time.
He was writing as a freelance journalist and also giving lectures and some of his work crossed the water to Australia, appearing in a column written by 'Maori Mac' in the Sydney Bulletin. This led to another move, this time to Sydney in 1910, where his socialist views were often controversial. He struggled both financially and in his personal life before, in 1928, he suffered a fatal heart attack while living in the Blue Mountains region of New South Wales.
David McKee Wright died on the 5th February 1928, aged 58.