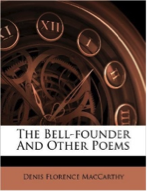 Denis Florence MacCarthy was a 19th century Irish poet and translator of Spanish literature. His Catholic faith had a strong influence on his work and he also never hid his Nationalist feelings about Ireland, producing a great deal of patriotic verse.
He was born on the 26th May 1817 in Lower O'Connell Street, Dublin. He was educated at home during his early years before going to St Patrick's College in Maynooth, a Roman Catholic seminary about 15 miles from Dublin. He came under the tutelage of a Spanish speaking priest there who passed on his knowledge of the language. Later on MacCarthy was able to use this skill to his advantage. By 1834 he was getting his poetry published in the Dublin Satirist. It was mostly patriotic verse and he was one of several writers who contributed their work to a newspaper called The Nation. MacCarthy often used the pseudonym "Desmond" at this time.
Aged 29 he was called to the Irish bar, although he never practiced law, preferring to pursue his literary career. He was a keen student of the history of Ireland and it's literature and, around the year 1846, he published two collections of ballads and poems. The first was The Poets and Dramatists of Ireland, the second a collection of work by various Irish writers which MacCarthy edited. It was called The Book of Irish Ballads.
His knowledge of Spanish enabled him to study the work of Pedro Calderón de la Barca, a man often referred to as "the Spanish Shakespeare". Over a twenty-year period he translated a large volume of this work, including plays, essays and poetry. He resided for much of his life on a hill above Dublin Bay although he travelled extensively across Europe and he also lived in London for a time. He was working on a book about Percy Bysshe Shelley while there and this account of a visit by Shelley to Dublin in 1812 was published under the title Shelley's Early Life.
It was his work on the translations of the Spaniard, Calderón, that probably cements his place amongst the literary greats. The American academic and expert in Hispanic matters, George Ticknor, wrote a History of Spanish Literature and made the following statement regarding MacCarthy's work:

MacCarthy was regarded as a graceful lyricist, often displaying a natural empathy with the beauties of nature all around him. He was very much in harmony with life and his earnest religious feelings, leaning in particular towards the Catholic spirit as embodied in Latin races all around the world.
His strong Irish nationalist side came out in poems such as Cease to Do Evil, Learn to Do Well. During the year 1844 many political prisoners were held at the Richmond Penitentiary in Dublin and MacCarthy took the inscription written by the gates of the prison as the title for this powerful poem which is reproduced here in full:
Denis Florence MacCarthy lived out his final years close to where he was born and he died on Good Friday, the 7th April 1882 at Blackrock, Dublin. He was 64 years old.