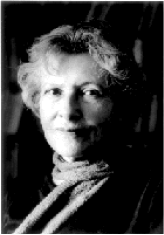 Denise Levertov was born in Essex in 1923.  Her mother was Welsh while her father was a Russian born Hassidic Safardic Jew who migrated first to Germany and then to England.  He later became an Anglican priest.  At the tender age of five she declared that one day she would be a writer.  True to her word she had a passion for writing from that early age and when 12 years old she submitted a few poems to the famous T S Eliot and he gave her a very encouraging and lengthy written reply.  She was only 17 when she got her first break – a published poem.
While serving as a nurse in war-torn London she continued with her writing and brought out her first book in 1946 – The Double Image.  A year later she met and married an American writer and they emigrated to the United States in 1948.  With their son Nikolai they took up residence in New York and Maine and Denise successfully applied for American citizenship in 1955.  As her writing progressed she became more and more influenced by the American style, in particular Black Mountain poets such as William Carlos Williams.  While her first two published books had been more European in style she now became an "American" writer and the poem With Eyes at the Back of Our Heads really brought her to the attention of the reading public.
Denise became very interested in political matters during the 1960s and 1970s and, like so many other artists, singers and writers, she was an active anti-Vietnam War campaigner.  She joined an organisation called the "War Resister's League".  At this time her sister died and she dedicated a poem to her – The Sorrow Dance.  She found herself teaching throughout the next decade and more, including spells at the University of Washington and a professorship at Stanford University.  On retirement from teaching she travelled across the United States and England, giving poetry readings to her fans.
Although there was a strong political message in much of her work she wrote in a sometimes lyrical, often sympathetic way describing the suffering caused by the war.  She wrote a poem called Staying Alive which highlighted the dreadful situation of the ordinary Vietnamese people.  She used strong, descriptive imagery in her book Life at War, not shirking from the violence and savagery of the events portrayed yet always with an element of grace in the language she used.  So that the American people might understand how their "enemy" coped with the loss of, in particular, their children she wrote What Were They Like?  Here are a few lines from this powerful poem: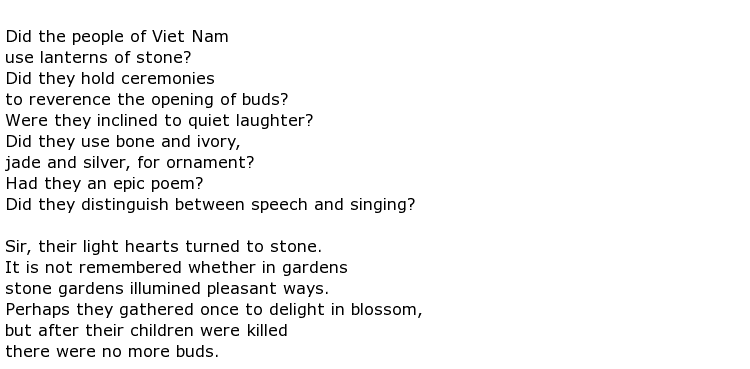 Her early family life gave Denise a strong religious grounding in both Christianity and Judaism and she carried this into her writing along with later mystical influences and Transcendentalism, as practiced by Thoreau and Emerson. From thinking herself an agnostic in her early years she converted to Catholicism in 1997 and many of her poems had religious themes running through them.  She said that she was on a spiritual journey through her lifetime and maintained a healthy respect for life and nature in all its forms.  The search for "the meaning of life" was important to her and her work, following her conversion to Christianity, explored the metaphysical aspects of the world.  An example she quoted was a mountain shrouded in clouds.  The mountain represents God; the clouds may cover the mountain, but it is still there.  Therefore, God is always there.
Throughout her life Denise Levertov was showered with honours and praise from all quarters.  She unfortunately suffered complications due to lymphoma and died in 1997 at the age of 74.  She was buried in Seattle.