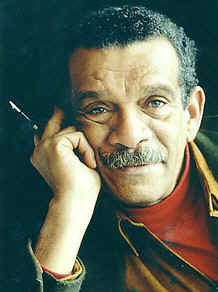 Winner of the Nobel Prize for Literature in 1930, Derek Walcott was born in the West Indies in 1930. Perhaps best known for his epic work Omeros, a re-imagining of the Trojan War in modern times, Walcott first started out as a painter but developed a love of writing and published his first poem at the age of 14.
Brought up in St Lucia, Walcott came from an artistic family – his mother was a teacher who liked to recite poetry while his brother was later to become a prolific writer himself. Walcott initially trained to become an artist, working under the wing of local professional Harold Simmons. But, influenced by poets such as T S Elliot and Ezra Pound, he found his true vocation in writing and he borrowed the $200 to print his first collection of poems and sold it on street corners at an early age.
Walcott got a scholarship that enabled him to study at the University College of the West Indies and he followed this by becoming a journalist and critic. He won international plaudits for his collection In a Green Night that was published in 1962 and which explored the Caribbean in both a post and pre-colonial age. His work since has garnered praise from some of the 20th century's major poets, including Sir Robert Graves.
From the 1950s onwards, Walcott spent his time between his beloved Saint Lucia and the United States, principally New York and Boston. Rich within his work is the Caribbean experience and the themes of power and place. He is one of the few poets who have the capability in the modern age to write an epic poem, highlighted by his work Omeros which transposes the epic of Homer and the Trojan War to a group of West Indian fishermen.

In 1959 Walcott furthered his growing play-writing credentials when he founded the Trinidad Theatre Workshop, something he is still involved with today. He was the first Caribbean writer to win the Nobel Prize in Literature in 1982 and has been the resident poetry expert at many universities such as Alberta in the US and, more recently, the University of Essex in the UK.
Walcott's Methodist and spiritual background play a large part in his work, from the very beginning to the present day. He combines this with an exploration of the paradox of post-colonial Caribbean life and its lack of what he calls a truly indigenous people who have little or no national identity.
Russian poet Joseph Brodsky described his work thus:

In 2011, Walcott won the T S Elliot Prize for his work White Egrets. He was 81 at the time and still going strong. This collection of poems explores Walcott's sense of his own demise and is seen by many as his valedictory address to his adoring public.

Walcott passed away on March 17th 2017 at Gros Islet, Santa Lucía.