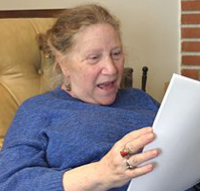 Diane di Prima is an American writer and artist whose literary output numbers over forty books of poetry, prose and memoirs.  She is popular around the world with her work having been translated into over twenty different languages.  She has also written plays and taught poetry.
She was born on the 6th August 1934 in the Brooklyn district of New York City, descended from Italian immigrants.  She went to school at Hunter College High School and then on to Swarthmore College but did not complete her studies there.  She had ambitions to become a poet and was impatient to get started.  Encouraged by correspondence between herself and other writers such as Kenneth Patchen and Ezra Pound and yet it took until 1958 to get her first collection of poems published.  This came out under the title This Kind of Bird Flies Backward.
There was a growing "Beat" scene in 1950s Manhattan and di Prima was an active part of it.  It was prevalent on the west coast as well and she visited various parts of California before deciding to move there permanently.  By the mid-60s the "Hippy" culture was taking off in both the United States and the United Kingdom and her work linked the two movements successfully.  Like many others though she often found herself subject to police attention due to the nature of the work that she was involved in.
The early sixties saw her founding an organisation called the Poets Press and she was also involved in setting up the New York Poets Theatre, as well as a newspaper called The Floating Bear.  The FBI arrested her in 1961 on the charge of publishing obscene material, this being two poems in the paper.  This kind of harassment went on for some time but she was not discouraged.  In 1966 she joined the community at Millbrook, run by the famous psychologist and psychedelic drugs experimenter, Timothy Leary.  Di Prima helped him to get work such as Psychedelic Prayers published in 1966.
Memoirs of a Beatnik, her erotic, fictionalised account of time spent with the Beats was published in 1969 and, during the next few years, she taught poetry in Colorado at the Jack Kerouac School of Disembodied Poetics.  Others of her generation joined her in this, such as William Burroughs and Allen Ginsberg.  Much of her poetry is typical of her time, being stilted, unstructured, with scant regard for capitalisation or punctuation.  Here is a good example, called First Snow, Kerhonkson.  It seems to be dedicated to someone called Alan – maybe Allen Ginsberg?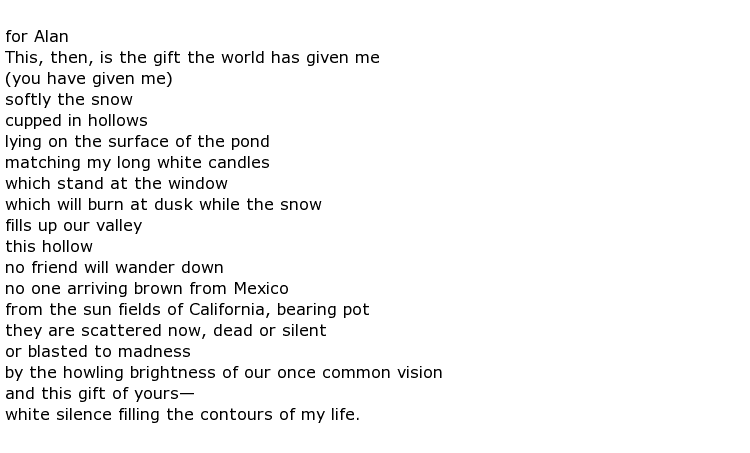 It's not really surprising that she became an activist against the Vietnam War and joined others in signing a vow of tax resistance.  She became interested in spiritual matters when she finally settled in California in the late sixties, studying Sanskrit, alchemy and Buddhism.  Amongst her many important pieces of work, the long poem Loba was probably the most significant when published in 1978, and then again in even longer format twenty years later.  She wrote a memoir in 2001 called Recollections of My Life as a Woman.
Diane di Prima is now in her eighties and was made Poet Laureate of San Francisco in 2009.  Her long writing career has made her famous but she has also become an accomplished photographer, water colour and collage artist.  She still teaches and encourages her students to integrate literature and art wherever possible.  Much of her early work concentrated on the social and political unrest found in the 60s and 70s but more recent material features aspects of her personal life and her Eastern philosophies.
She has been married twice and has five children.