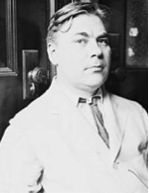 Donald Marquis was a humorous writer of poetry, a novelist, playwright and a famous newspaper columnist who has his place in American literary history as the creator of such characters as Archy & Mehitabel, who were a cockroach and alley cat, and a "hip flask philosopher" called The Old Soak. Add Warty Bliggens the Toad and Freddy the Rat and you will get some idea of the kind of humour that Marquis dealt in. He was highly successful with his character creation and they became favourites of the American people and, indeed, the books in which they appear have never been out of print. The Old Soak also appeared in two movies – one silent and one talkie – and a hit Broadway play during the 1920s and 1930s.   His literary output was considerable, including hundreds of poems and short stories, five plays and some 35 books.
He was born Donald Robert Perry Marquis on the 29th July 1878 in Walnut, Illinois. He had a fairly brief education starting at Walnut High School and ending with a three month spell at the Knox Academy. He made a good career for himself in the world of journalism, starting out in Washington D.C. before moving on to Philadelphia and then Atlanta where he had a spell on the editorial board of the Atlanta Journal. He moved to New York City in 1909, determined to seek his fortune. He worked at several New York newspapers including The Evening Sun. He contributed many humorous pieces to such magazines as Cosmopolitan, Harper's and the Saturday Evening Post.
Marquis really struck gold though with his cockroach character Archy who, supposedly in his previous lifetime, had been a poet. Archy leaves poems, all in lower case and with no punctuation, on the typewriter simply by jumping on the keys in turn. He cannot, though, operate the Shift key – well, he was a cockroach so how could he! This character was a kind of social, satirical voice for the amusement of his readers. The alley cat Mehitabel soon appeared along with others such as Warty Bliggins, the egomaniacal toad, Clarence the ghost and Pete the pup.
Other writers in New York looked up to Marquis as a kind of iconic figure in the world of journalism and on the burgeoning literary scene of the 1920s. Contemporaries at that time included Dorothy Parker, James Thurber and Robert Benchly. His 1922 production on Broadway of The Old Soak turned out to be one of the top productions of the season at a time when America was going through tough times with the Prohibition laws but, alas, it was his only success in this field.
Although he was most famous for his newspaper and magazine columns, Marquis was also an accomplished poet and many of his pieces had the same kind of trademark humour that he displayed in his daily or weekly columns. Take for example his poem The Hunt which first appeared in the Pacific Monthly in 1909. It was an imaginary situation where the hunters are hunted. Marquis was clearly in the anti-hunting, shooting and fishing lobby:


The final years of his life found him suffering greatly. His health was poor following a number of strokes and, possibly, the final straw was losing his wife Marjorie in October 1936. It was the second time that he had been widowed and, although he survived for another year, it seems that he almost lost the will to live.
Donald Marquis died of a stroke in New York City on the 29th December 1937, aged 59.