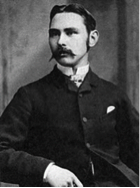 Douglas Hyde was an Irish writer and politician whose Irish name, An Craoibhín Aoibhinn, translates as "The Pleasant Little Branch". He was an academic and renowned scholar who championed the Irish language, along with the culture and folk lore of his country. Incredibly, at the age of 78, he became his country's first President and he served in this post for seven years. His efforts were significant towards the success of the Gaelic Revival and he was the first head of the cultural organisation called the Gaelic League.
He was born on the 17th January 1860 at Longford House in Castlerea, County Roscommon, one of four children. His father was a Church of Ireland minister in County Sligo and Douglas spent his early years there in a small town called Kilmactranny. He was not a particularly healthy child and received tuition at home, from his father, and this gave him the opportunity to develop a love for the local dialects as spoken by the many working and older people that he came into contact with. As he grew up his interest increased, especially following a number of visits to Dublin where he saw like-minded people trying to revive a language that was considered outdated.
Hyde's father would have liked his son to follow him into the church, but Douglas had academic ambitions. He studied languages at Trinity College, Dublin and it was here that he contributed to the creation of the Gaelic League. His writing became a major contributory element of a burgeoning literary renaissance and was recognised throughout Ireland and in America. The famous writer W B Yeats championed Hyde as a driving force in the move to get Irish literature and folklore more world attention. Hyde's fierce sense of Irish Nationalism never dimmed over the following decades.
During the early 1880s he published in excess of 100 pieces of verse using the pseudonym An Craoibhín Aoibhinn and he was an active member of the Society for the Preservation of the Irish Language. At first this organisation was looked up with incredulity, many considering its members eccentric at best. However, the movement grew in popularity and Hyde, amongst others, launched the Gaelic Journal in 1892. The aims of this paper were to espouse all things Irish – dress, culture and language – and a manifesto was produced called The necessity for de-anglicising the Irish nation.
Here is a good example of Hyde's poetry which tells the story of Colum-Cille (Saint Columba), an abbot and missionary who left his beloved Ireland to spread the Christian word across the sea in Scotland. The poem is called Colum-Cille's Farewell To Ireland: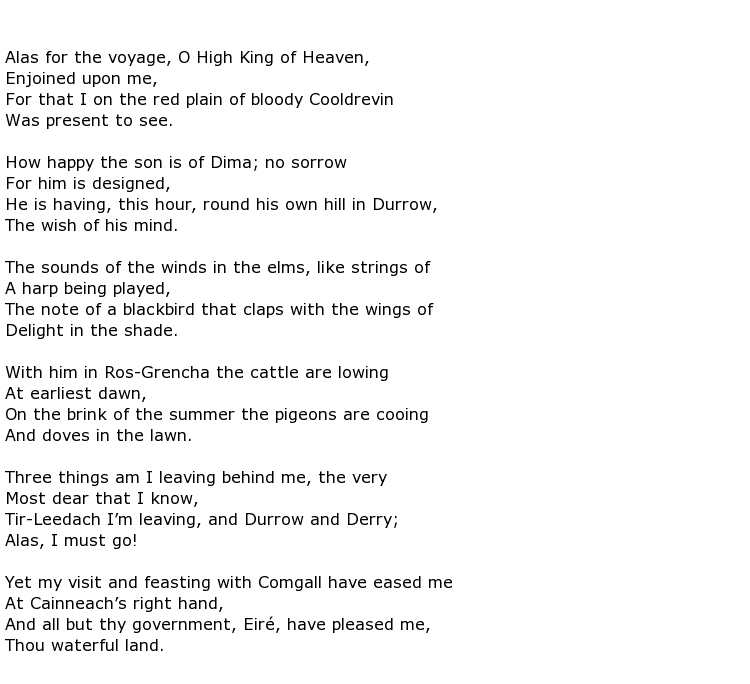 He married an Englishwoman in 1893 and they had two children. This was the same year that the Gaelic League came into existence and it would become an incredibly influential organisation for early 20th century Irish republican activists such as Michael Collins, Patrick Pearse and Éamon de Valera to follow. However, while men such as these took Irish ambition to another level, with physical force being part of their manifesto for a free Ireland, Hyde remained enigmatic and even passive as time went by. His fellow Irishmen never lost their trust and admiration for him though and he became a popular President when elected in 1938.
Hyde's presidency lasted until the end of the Second World War and one of his final acts was to offer his country's condolences to the German ambassador on the death of Adolf Hitler. This act was kept secret for sixty years. He retired quietly to take up residence in the grounds of a large house called Áras an Uachtaráin, and remained here for the last four years of his life.
Douglas Hyde died on the 12th July 1949 at the age of 89.