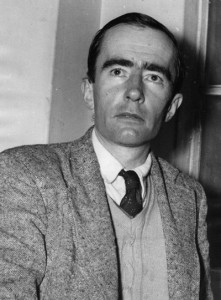 Born in 1913 in Taranaki Province, New Zealand, Douglas Stewart was an Australian poet who was more known for his editing career and his promotion of burgeoning writers in the 20th Century. He was born into a well-to-do middle class family and led a fairly happy childhood in New Zealand.
Stewart claims he decided to become a writer at the age of 8 years old when he attended private school for the first time. At 12 he obtained a scholarship to go to a prestigious boarding school where he started to compose his first poems. He sent them to local magazines but was ignored until Cecil Mann, editor of The Bulletin, saw some and published a few in their sister paper The Australian Women's Mirror.
Although he spent some time at university studying law, Stewart was not a committed student and didn't pass his exams. He moved back to Taranaki Province where he worked as a journalist whilst his poetry was beginning to get more coverage. He published several in The Bulletin. Stewart then moved to Australia where he found a job working on The Star in Melbourne. He published his first collection of poetry in 1936, a book called Green Lions.

This was followed by his second collection, The White Cry, a few years later whilst he was staying in London. It proved to be the last of his traveling as he returned to Sydney, where he would remain the rest of his days, to begin working on The Bulletin. Stewart quickly took charge of the paper's literary section called The Red Page and would edit it for the next 20 years.
With a steady job and the rise of war across the world, this proved to be Stewart's most productive time for writing. It included his work Elegy for an Airman in 1940 and Sonnets to the Unknown Soldier a year later. As the war drew to a close, Stewart married Margaret Cohen and had a child with her. He published three more collections in the next few years including The Fire on the Snow and became well respected as an editor.
His verse play about outlaw Ned Kelly would become one of the most well-known stage plays of the 40s and 50s and, in 1960, he was honored with an OBE for his literary efforts. Stewart left The Bulletin and began a career as literary adviser and editor for a publishing company, starting his association with many of Australia's burgeoning poets and writers. His last book of poetry came out in 1962 and was called Rutherford and Other Poems but he produced a number of anthologies over the ensuing years.

Whilst there were no more new collections he did publish poems in various literary journals and he moved to writing short stories that appeared in anthologies and a number of literary criticisms that further cemented his reputation. He continued to contribute to Australia's literary landscape until well into later life. Stewart died in 1985 at the age of 71 and was buried in French's Forest Cemetery.