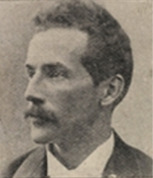 Dowell Philip O'Reilly, an Australian-born writer of poetry and short stories who also spent time as a school master at his old school, the Sydney Grammar School. He was a politician for a time, serving four years on the Legislative Assembly for Parramatta where he campaigned, in particular, for women's suffrage.
He was born on the 18th July 1865 in Sydney, the son of a Church of England minister. Dowell was probably influenced in his writing by his mother who ran a preparatory school of boys in Parramatta. After his own education he assisted his mother with the task. At the age of 19 he published his first book of poetry, a small collection simply called Australian Poems. Four years later he produced a larger collection, this time called A Pedlar's Pack. O'Reilly did not have much success with this second project and, crushingly disappointed, it is believed that he destroyed many of the unsold copies of the book.
In his late twenties he tried his hand at politics and had some joy with the first motion in favour of women's suffrage ever to be carried in the New South Wales parliament. Unfortunately he lost his seat at the 1898 election and took up the profession of school master for the next eleven years. In 1910 he tried once more to enter politics, standing as a labour candidate in the Parramatta election, only to fail.
He was married in 1895 and the couple had three children but, unfortunately, his wife was never in good health and she died in 1914. The previous year saw O'Reilly publish a short story called Tears and Triumph, a piece which probably owed something to his previous interest in feminine rights issues. It was a remarkable insight into life from a feminine point of view, particularly their sexual needs and attitudes, and critics have recorded that it is a story told in a unique way, unlike any other piece of Australian literature.
O'Reilly had long-running correspondences with a cousin in England and, after his wife's death, these turned to love letters and the pair got together and married in June 1917. This poignant collection of letters was sent to press in 1927 with the title



Besides his published work, he had seen much of his work appearing in publications such as the Sydney Bulletin and other periodicals.
O'Reilly was the first to admit that his life was never a great success. He wrote, not long before he died, that



Nevertheless everyone who knew him described him as sensitive, kind, witty and tolerant and he was much loved by the boys in his care at Sydney Grammar School. His early poetry would probably be classed as "average", though his later efforts were better appreciated.
Here is an example of his verse, a piece called Faith, Love and Death:


Dowell Philip O'Reilly died on the 5th November 1923 at the age of 58. He succumbed to cerebra-vascular disease and pneumonia.