Dyneley Hussey was an English war poet who was one of the lucky ones – he fought during the terrible conflict of World War One and survived to live a long life. He was also a journalist and celebrated critic in the fields of art and music.
He was born on the 27th February 1893 in India, the son of a serving army officer called Colonel Charles Edward Hussey. As was the custom then, he was sent back to England for his education which was completed firstly at St Cyprian"s School Eastbourne and then The King"s School Canterbury. His academic standards were high enough to win him a place at Corpus Christi College, Oxford.
Just as he was setting out on his adult life the war broke out and he enlisted into the Lancashire Fusiliers, serving with the 13th Battalion. Amongst a number of others, he found the time to write about what he saw on the battle fields and some of his poems were published including well known pieces such as Courage and An Oxford Retrospect. So many young men took up the call to arms as soon as they could be released from their university studies and, tragically, so many of them never came back to resume those studies.
Here is one of Hussey's sombre war poems, under the stark title The Dead: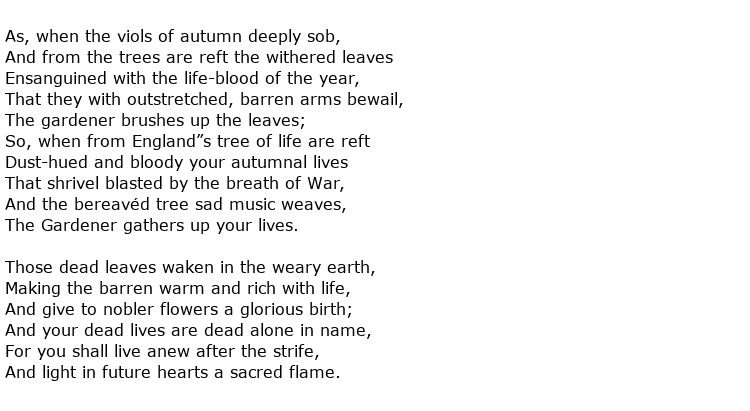 A collection of Hussey's work exists that dates from the year 1915. Titled World War One Poetry, it contains manuscript poems and letters and the work was produced between February and September of that year. Hussey signed the poems that he had written but there are one or two other pieces in there belonging to other writers. The letters are addressed to someone called Mrs Palmer and, in them, he makes such requests as needing artwork to be included in his book Fleur de Lys, Poems of 1915. They were usually written on battalion notepaper.
Hussey was one of the fortunate band of survivors and he went on to spend a five-year period at the Admiralty working in the finance department. He followed this with a spell as a journalist, mostly concentrating on critical pieces on art and music. He was music critic on The Times newspaper between 1923 and 1946 and also wrote for a number of other titles such as the Spectator, Weekend Review and Saturday Review.
When the second world war broke out he was too old for active service but he returned to his previous administrative post at the Admiralty. Following this he spent many years at the BBC, involving himself in music played on the BBC Third Programme radio station. Until 1960 he was music critic for The Listener magazine. Along with his poetic works, he also had titles published on musical subjects, including Wolfgang Amadeus Mozart (1928), two books on Verdi (1940 and 1968) and Some Composers of Opera, published in 1952.
He married in 1926 and his wife provided him with three children, but she unfortunately died in 1941. Hussey later remarried.
Dyneley Hussey died on the 6th February 1972 in Cheltenham, Gloucestershire. He was 79 years old.