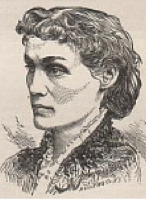 Edith M Thomas was a poet described by the New York Times as



following her death in 1925. She lived much of her life in New York City and her poetry style was said to



Many others followed suit, but she was one of the first to do this.
She was born Edith Matilda Thomas on the 12th August 1854 on a farm in Chatham Center, Ohio. Her family all had creative talents and she was inspired to be a poet by a volume of Keats poetry that was given to her by an uncle. She went to school in Geneva, Ohio and then attended Oberlin College, but did not complete her studies there. Despite not getting a degree she managed to secure a teaching position for two years before becoming a typesetter. She also wrote for local newspapers and some of her poetic works were admired by the author Helen Hunt Jackson, who she met on a chance visit to New York City, and she urged Thomas to submit work to other periodicals, where she might gain better exposure. The Atlantic Monthly, The Century and Scribner's all published her poetry and, with the endorsement of an established author such as Miss Jackson, she gained "…. almost immediate literary celebrity".
Other writers of the time noted her talent and, in 1884, a Canadian poet called Charles G.D. Roberts gave her further endorsement with the following comments. He said:


He even compared some of her work to Shakespeare's sonnets.
Thus inspired, Thomas submitted her first collection for publication the following year under the title A New Year"s Masque and Other Poems. She then decided that New York City might be a better place to make her name as a writer and she moved there in 1887, gaining employment with Harper"s magazine and Century Dictionary. She immediately fell in love with the city and remained there for the rest of her life and it is believed that she wrote in excess of 300 poems. She was so popular that, at times, it was hard to keep up with the demand from the various leading literary magazines who all clamoured for her work.
Although much of her poetry was read as individual submissions to periodicals she did publish at least ten collections, including Lyrics and Sonnets in 1887 and A Winter Swallow in 1896. A final collection was compiled posthumously, in 1926, and published under the name Selected Poems. She sometimes wrote in a lyrical style while, at other times there was drama in her words. A good example is a vivid portrayal of that quiet time just before the break of day, perhaps over her adopted city. The poem The Dark Before Dawn is reproduced here:


Edith M Thomas died on the 13th September 1925 at the age of 71.