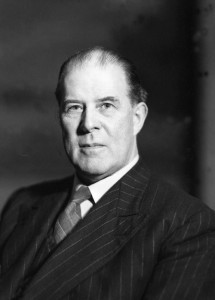 Born in London in 1875, Edmund Clerihew Bentley was a well-known writer and wit who is now best remembered for creating a new verse form called the Clerihew. His father was not only a respected civil servant but also played for England against Scotland in one of the first international rugby matches. The young Bentley was born into a moderately well to do family and initially went to St Paul's School before graduating and heading for Merton College in the heart of Oxford.
Bentley was interested in writing from an early age and when he left college started work as a journalist in London, finding employment with newspapers such as The Daily Telegraph and The Outlook. Whilst he was always more focused on prose works and his journalism, Bentley also began publishing his own poetry at the age of 30 in 1905.
The strangely named Biography for Beginners was a turning point in English poetry in that it helped to popularize a new verse form that was called the Clerihew. Though the collection itself received little in the way of reviews and is no longer prominent in the minds of most poetry lovers, it did create a fad for others to follow. Part of its popularity was helped by another, more famous writer, G. K. Chesterton who used the form and was a close friend of Bentleys.
The Clerihew is essentially a short, biographical verse that begins with the name of the subject who is being written about. It is usually humorous and consists of just four lines with the first two lines rhyming with each other and the second two in the form AABB. One of the best known of Bentley's poems concerns Sir Christopher Wren and highlights the way a Clerihew should be written.

The other interesting thing about the Clerihew is that the lines are irregular in length and the creativity of a verse was often judged by how difficult it was to rhyme the surname of the subject. Although humorous in nature, the object of a Clerihew is not to be abusive or even satirical and is often viewed as a parody of a eulogy.

Bentley created the verse form when he was only 16 years old whilst he was studying at St Paul's and he and his school friends, including Chesterton, would often compete with each other to find the most apt verse about a well-known person of the day or from history. He produced a couple of other collections of these verses later in life, called More Biography and Baseless Biography, but he was more popular for his detective stories.
The first of these was published in 1913 and was called Trent's Last Case which was well received and praised by the likes of Dorothy L Sayers in later years. The book was made into a film several times and prompted Bentley some years later to write a sequel called Trent's Own Case. Indeed, Bentley was extremely fond of detective stories and was even president of the London Detective's Club.
Bentley died at the age of 80 in 1956 but his Clerihew remains a popular verse form for children and aspiring poets alike.