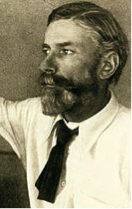 Edward Carpenter was an English poet and anthologist who, remarkably for his time, was a leading campaigner for the rights of lesbian, gay, bi-sexual and transgender individuals. He had many friends and acquaintances in the literary and entertainment fields, including John Ruskin, Isadora Duncan and Walt Whitman and he also corresponded with the so-called



Mahatma Gandhi. Carpenter had outspoken views on most subjects, a striking example being found in his philosophical work



In this he offered the theory that



He was born on the 29th August 1844 in the coastal town of Hove, Sussex and attended Brighton College. He made steady progress there and appeared to have a talent for playing the piano. He went on to study at Trinity Hall, Cambridge and it was here that he discovered his homosexual feelings, taking up a close (even romantic) relationship with one Edward Anthony Beck, a man who would later become the Master of Trinity Hall.
After graduating from Cambridge, Carpenter became a curate with the Church of England and got himself noticed by the King when, in 1871, he was offered a position of tutor to two royal princes. He was unsettled in both his church life and his perceived double standard of Victorian England and he declined this position, steering instead towards literature. He had been reading work by such as Walt Whitman for some time and he declared that this poetry had made a big impact in him.
In 1874 he decided to leave the church and he moved to the north of England, taking up residence first in Leeds and then Chesterfield and Sheffield. He hoped to be able to make contact with ordinary working class people through education schemes run by academics in particularly deprived areas of the north. It seems though that his motivation was more sexual than educational. When he found himself in Sheffield he started writing poetry based on the images of industry and its workers. He wrote of his delight in seeing



or



Socialism began to take over his life and he became a member of the Social Democratic Federation in 1883. He spoke out vehemently against the poor working and living conditions in the city and described the smog hanging over the city as like:

He was writing and giving lectures on social and industrial reform but, when his father died, he inherited a considerable sum of money and took up market gardening in Derbyshire. He joined a society named the Fellowship of the New Life which included literary figures such as Havelock Ellis, Frank Podmore and Edith Nesbit. Carpenter was beginning to write in strong socialist terms of a future utopia. He was also a member of the Fabian Society.
He had not forgotten earlier religious influences though and these came out in some of his poems, an example being a short piece called Love's Vision. This also alluded to his homosexuality, a state that he considered should not be considered a sin, as many did at that time. Since living in the north of England he had been co-habiting with at least two men, both rough, manual workers. Here is the poem:



Carpenter was a great political activist on subjects such as women's suffrage and he wrote many pamphlets on this and other subjects such as sexual freedom. He was certainly a well-known, if not controversial, figure and literary students have given him such titles as the "gay godfather of the British left" and the "Saint in Sandals".
During the 1920s he moved back to the south of England with his long-term companion George Merrill but he suffered a paralytic stroke in May 1928, which he just about survived.
Edward Carpenter died on the 28th June 1929 at the age of 84.