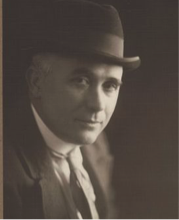 Edward Dyson was an Australian poet and freelance journalist, He also produced short stories and plays and was one of three talented brothers, the other two being illustrators.
He was born Edward George Dyson on the 4th March 1865 at Morrisons Diggings which is close to Ballarat in the state of Victoria. His parents had emigrated from England in 1852 and his father, who had been a coal miner, became a mining engineer. The family moved around quite a bit during Edward's childhood, thus disrupting his education, although the boys were fortunate to have a woman of refinement in their mother who encouraged their artistic talents constantly. School was not a pleasurable experience though, not surprisingly and it was said that Edward "…recoiled from formal education with bewilderment and loathing".
He was a great observer of life going on around him though, being more or less at liberty to explore wherever he chose. There were a lot of disused gold mines near his home and these were a source of wonder and excitement, along with the characters that he found there and in the town. Many of them were remembered in his future stories of miners and mining. One of his childhood haunts, a town called Alfredton, became "Waddy" in his stories and poems.
Dyson started work at the age of 12 and filled a number of positions, including drapery and mining, before settling down to be a writer and journalist from around 1884 onwards. His first collection of poems soon came out under the title Rhymes from the Mines and then, two years later, he released a collection of short stories called Below and On Top reflecting the lives of men who spent their working lives either underground or on the surface. One of his poems, Worked-out Mine, is full of powerful and haunting imagery of long-abandoned workings and the ghostly presence of miners, either dead down below or long gone to other mines. Here are the opening verses to this poem: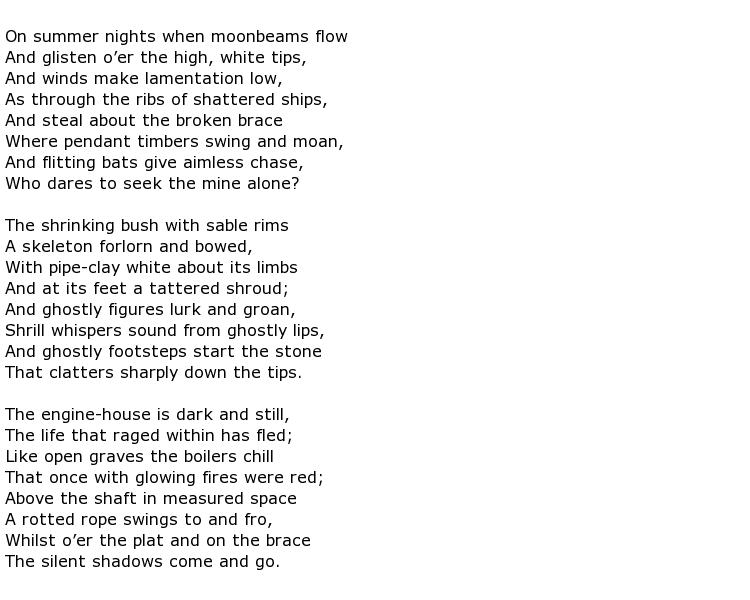 Dyson first came to the attention of the reading public with a number of pieces submitted to various publications such as Australian Tit-bits and the Melbourne Punch, usually under the pen-name "Silas Snell". However he really came to prominence when he had a short story called A Golden Shanty published in the Sydney Bulletin in their Christmas 1889 issue. He later turned this story into a play and it was staged during August 1913 at a Sydney theatre.
He was encouraged by his successes and produced a great deal of freelance journalistic work for many newspapers and periodicals while still continuing with his literary output. He kept a careful eye on his earnings and, by 1901, was doing so well that he felt able to turn down a permanent position on the staff of the Bulletin which would have earned him a generous £10 per week.
His relentless output of articles, humorous pieces, stories and plays was described as 'machine-like productiveness' and he drove himself on with hardly a pause for breath. His experiences of the gold fields were a rich source of material but he also wrote about other industrial processes, an example being Fact'ry 'ands, published in 1906, which told of his life working in factories when younger.
Just when it seemed that he would live out his life as a bachelor he got married, in 1914, to a music teacher and they had one child together. He looked forward to ending his days in domestic contentment and financial security but, alas, he suffered along with many others from the influenza pandemic of 1919 which severely affected his health, leaving him debilitated with encephalitis. He never properly recovered from it and the years of intense work and strain took their toll.
Edward Dyson died on the 22nd August 1931 at the age of 66.