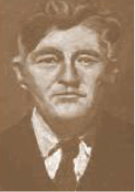 Edward Harrington was a 20th century Australian writer whose name was often shortened to Ted Harrington. His evocative poems and short stories established his name as the last of the so-called bush balladists.
He was born Edward Phillip Harrington on the 28th September 1895 at Shepparton, Victoria. His father, a wheat grower, was an Irish immigrant and Ted enjoyed his childhood on the farm before being educated firstly at Wanalta Creek and then at Shepparton Central schools. He showed early promise as a writer and composed his first poem at the age of nine. He could have taken up a scholarship place at Bendigo College but was prevented from doing so because his parents could not afford to support him there. Writing seemed to be his passion and he would interrupt his farm work to write down random thoughts as and when they popped into his head.
Despite his slight frame he was accepted into the Australian armed forces in February 1917 and then sent to the middle east where fighting was going on in the latter stages of the First World War. As a young soldier in the Fourth Light Horse Division he fought in Palestine and witnessed, first hand, many shocking events such as comrades having limbs blown off. Despite his situation he still managed to retain the ability to put down his thoughts in verse and one of Harrington's best known poems, The Hills of Whroo, found its way into the Rushworth Chronicle of March 23rd, 1917. It is a brief tale of typical adventures that might have been had by a youth at that time which, poignantly, would be interrupted by the terrible events of the First World War. The poem is reproduced here: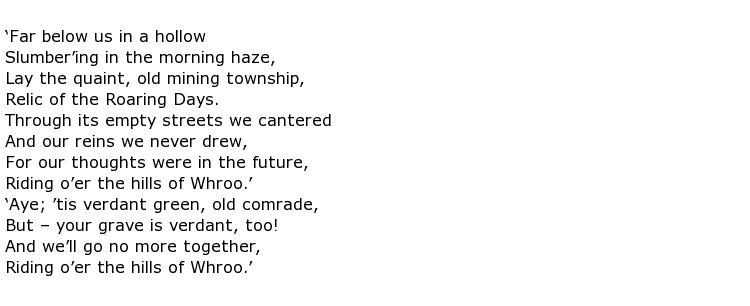 He was discharged in August 1919 and, from then on, suffered with poor health which was a common state for most returning soldiers. He drifted between places for a while, working as a drover amongst other occupations, but continuing to write at the same time. The 'bush balladeer from Wanalta' was well known amongst literary societies and many of his pieces of work were published in The Bulletin and Labour Call over the following decades. He had at least five collections of poetry published though, in some ways, his style was soon overtaken by more modern poets. Examples of his collections include Songs of War and Peace (1920) and The Swagless Swaggie and Other Ballads (1957).
He was not forgotten though and one of his songs, My Old Black Billy, featured in a 1954 musical staged in Melbourne called Reedy River. At the end of the show he was called up to the stage to acknowledge the applause of the audience. This song refers to something from his childhood when there was a succession of swagmen passing by the family farm and these "swaggies", as they were known, would all be carrying the old black billy, an essential part of their kit.
In later years Harrington carried out war work once more, but this time in a WWII munitions factory, and was a regular contributor to a number of newspapers and periodicals. He lived through the early years of the Vietnam war and wrote bitterly about this conflict, criticising the government for their involvement in this "foreign" war that had nothing to do with Australia.
Edward Harrington died on the 28th May 1966 in Melbourne at the age of 70. He had been suffering with chronic bronchitis and emphysema for some time and his health finally gave way.