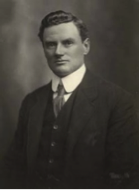 Edwin James Brady was an Australian poet, short story writer and journalist. A committed nationalist, he took an active interest in the Labour party and wrote a number of articles on socialist and economic issues of the day.
He was born on the 7th August 1869 at Carcoar in New South Wales, the son of Irish immigrants. His father, Edward John, had originally migrated to America where he fought in the Civil War but he then moved on to Australia and became a mounted policeman.   He still had thoughts of living in America and the family moved to Washington DC when Edwin was 12 years old but this lasted for only one year and they then returned to Australia, settling in Sydney. They boy then went to two Catholic schools but did not take his education any further.
After a spell working at the docks as a timekeeper he took up journalism, editing a socialist paper called the Australian Workman. He briefly had political ambitions but settled for the life of a writer, producing work for a number of publications including the Sunday Times and the Arrow. Like many other budding poets, Brady found an outlet for his work in the Bulletin and his first verses appeared there in the Spring of 1891. It took another 8 years before his first collection was published under the title The Ways of Many Waters.
During the next few years he did a bit of travelling by wagon and enjoyed the country life for a while, but this did not last and, by 1906, he was working in Melbourne. His writing output increased to the point where, in 1911, he had a number of books published including one account of his long wagon trip around the country which he called The King's Caravan. Shortly afterwards he had another collection of verse published which was called Bells and Hobbles. Eventually he found city life a little distracting so he set up home in a small town in Victoria called Mallacoota and he liked it so much that he remained there for the rest of his life. Others followed his lead and a sizeable writers' and artists' colony was soon established.
Much of his poetry has a strong nautical theme. His love for ships and boats, and "the grey, grey water", comes out in poems such as Twilight. The opening verses are reproduced here: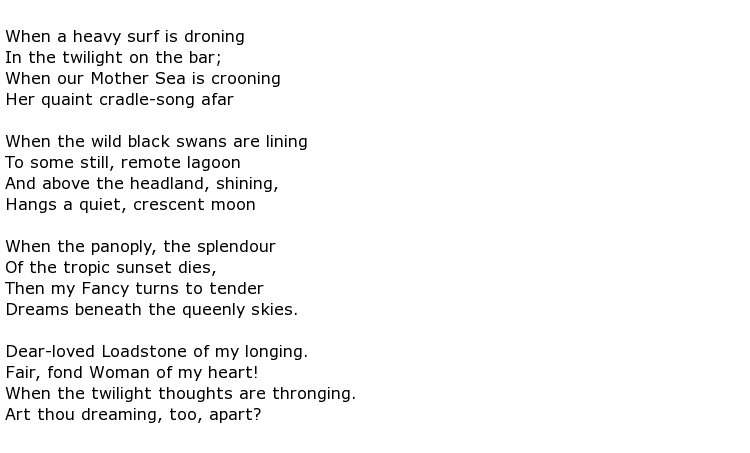 It is very likely that he got his interest in travelling over land and sea from his father and, although he did not replicate those travels to the same degree, he liked to write about such adventures. His book Two Frontiers, published in Sydney in 1944, was about his father's time in both America and Australia and he was encouraged to write this by the award of Commonwealth literary fellowships which specifically prompted this writing project.
An even more significant publication was seen in 1918 with his book Australia Unlimited which was his call for an immediate and significant increase in the country's population. Although immigration had been healthy he saw that if the economy was to grow Australia needed more people.
Edwin James Brady died on the 22nd August 1952 at the age of 83. He had been married three times and these unions produced six children.