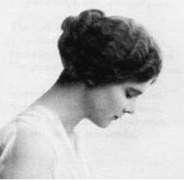 Elinor Morton Hoyt Wylie was an American writer whose short life spanned only four decades either side of the turn of the 20th century. She was a great beauty and, as such, was known for that as much as her literary talent and her poetry was described as having melodious and sensuous properties.
She was born Elinor Morton Hoyt on the 7th September 1885 into a New jersey family with solid social foundations. She grew up in Somerville and was educated at private schools up to the age of 16 and then at Holton-Arms School for the next three years. Like most society girls at that time her education was aimed more at training for the life of a "debutante and a society wife" rather than for academic purposes. She pursued a deep interest in books though and had ambitions to be successful like some of the characters that she read about.
However, she was soon married although her marriage in 1906, following an elopement, was unhappy and lasted for only four years. During this time she was "stalked" by a man seventeen years her senior. Horace Wylie, a lawyer in Washington, was married with three children and they eventually set up home together. This caused a scandal in society circles and they were forced to go to England where they lived for a time. Encouraged by her lover, Elinor's first collection of poetry was published in 1912 under the title Incidental Number.
The relationship was unstable, not helped by a number of miscarriages and one stillbirth between the years 1914-16. She did produce a child but it died after only a week of life. The couple were able to return to America once Wylie had obtained a divorce from his wife and they were married in 1916 at a time when they were actually drifting apart. Elinor could not settle to one relationship and her frequent affairs and dalliances would be a source of great interest in the scandal sheets throughout her lifetime.
She naturally drifted into the literary circles of New York which were frequented by the likes of Edmund Wilson, William Rose Benét and John Peale Bishop. She married Benét in 1923 but this, like her previous two marriages, soon hit the rocks. She published another book of poetry in 1928 called Trivial Breath and, soon after, went to England once more to live. Here she began an affair with another married man and, such was the intensity of her love for him, that she wrote a number of sonnets dedicated to him. These were published privately at first but appeared in a 1929 book called Angels and Earthly Creatures.
Much of her work appeared in publications such as Poetry magazine and one of the pieces of work seen there could be found in a number of anthologies of verse. This dream-like poem is called Velvet Shoes and is reproduced here: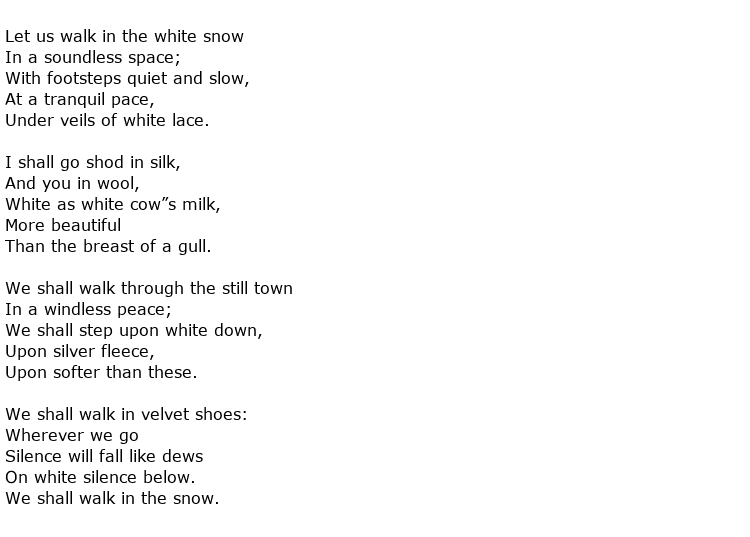 Other collections of verse include Nets to Catch the Wind (1921) and Black Armor (1923), both of which earned lavish praise from fellow poets such as Edna St. Vincent Millay and literary journalists alike. The second volume attracted the following line in the New York Times:



Wylie was also a romantic novelist and all of her four titles were praised at the time but became less popular during the 1940s and 50s as more "masculine" literature came to the fore. It is, perhaps, no surprise to note that she was heavily influenced in her writing by the great Romantic poets such as Shelley with whom she displayed a kind of obsession. She even imagined that he lived longer than he actually did and went to live in America.
Elinor Morton Hoyt Wylie's life was cut short when she suffered a stroke and died in New York on the 16th December 1928. She was only 43 years old.