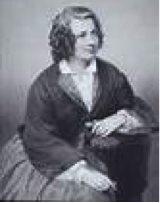 Eliza Cook was a 19th century English writer who grew up in London at a time of great unrest amongst the working classes. Many were angry at the failure of the Reform Act of 1832 to grant free voting to those who did not own property and the famous Chartist Movement was a result. Many writers joined the cause, writing articles in pamphlets and publications in support of the people. Eliza Cook was one of those writers; she wrote a considerable number of pieces in such as the Weekly Dispatch, a radical newspaper. Much of her work was in the form of verse and she also contributed to The Literary Gazette and New Monthly among others.
Eliza was born in December 1818 in Southwark, a borough of South London. Her father was a local tradesman and she rose from fairly humble origins to become a published poet. Encouragement came initially when she was at Sunday School and by the time she was nineteen years old she had already contributed a great deal of work to radical publications mentioned above. She was a passionate follower of the activities of the Chartists even though, of course, the vote for women was still a long way off.
Her first volume of poems actually came out in 1835 when she was only 17 and it was called Lays of a Wild Harp. Further published work followed on a fairly regular basis including Melaia and other Poems in 1838. Some ten years later she was publishing her own weekly periodical – Eliza Cook's Journal – which she, herself, described as being purely for "utility and amusement."
Probably one of her most famous poems was in the Melaia collection and it received worldwide recognition, being a favourite in both England and America. It was called The Old Armchair and is a moving, sentimental tale of a young woman's attachment to the very chair in which her mother nursed her as a baby, sat in and told her stories and then, eventually, was the place where she died. It's a beautifully written piece which will have tugged on the heart strings of anyone reading it with strong family ties. It is reproduced below: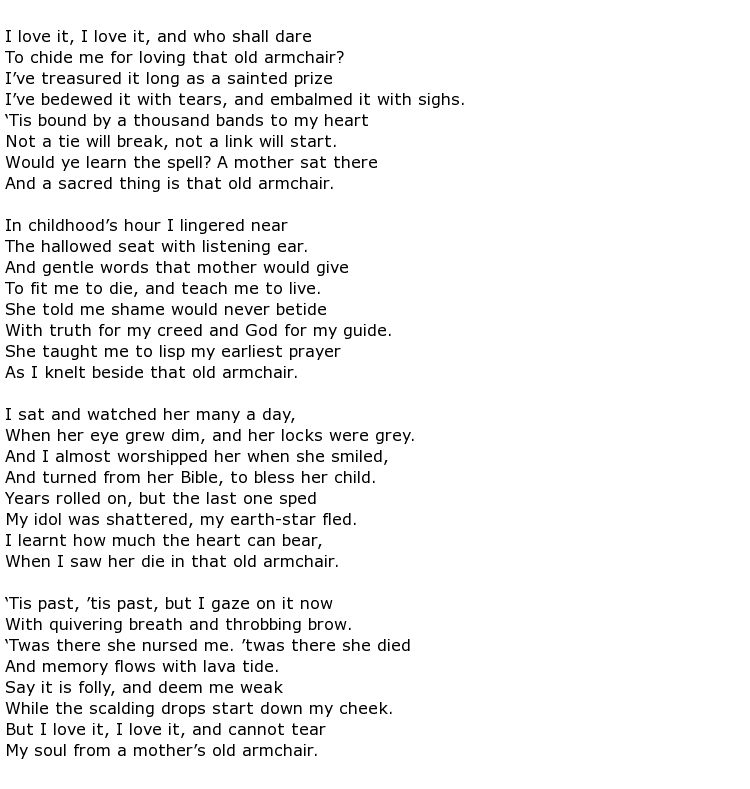 Although Eliza was fully aware that women did not have equal rights with men she, nevertheless, campaigned tirelessly for both political and sexual freedom for her sisters. She was a great believer in the great leveller of education, believing that anyone had a write to improve their lot. Not surprisingly she became something of a champion among the working and downtrodden classes. As the 19th century wore on other writers picked up many of her poems and articles and re-published them in anthologies supporting the rights of the common man.
History shows that here was a good and kindly soul who always displayed a regard for the comfort and welfare of others ahead of her own. She just wanted the lives of the poorer people to be better. She never married but, in her later years, she was looked after by family members who ensured that she had a comfortable end to her life.
Eliza Cook died on the 23rd September, 1889 in Wimbledon. She was 70 years old.