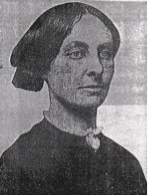 To use her full name, the three times-married Elizabeth Anne Chase Akers Allen (she retained her maiden name and the last two of her married names) was an American poet and journalist who travelled widely in Europe during the 19th century. She worked as a journalist for several publications while writing and publishing a number of collections of poems. She is best remembered for a sentimental piece called Rock Me to Sleep which was a popular poem during the American Civil War. Literary critics have pointed out though that she wrote better poetry, sometimes only for publication in newspapers. It is generally accepted that she was the author of this poem though some dispute arose when another writer claimed ownership of it.
She was born Elizabeth Anne Chase on the 9th October 1832 and she grew up in the town of Farmington, Maine. Very little has been written about her early years but it is known that she attended the Farmington Academy, an establishment which later became known as Maine State Teachers College. She was writing poetry from an early age and had one poem published in the Boston Olive Branch when aged only 15.
In common with many women at that time, Elizabeth married young, in 1851, but it was a short-lived affair which ended in an early divorce. In 1855 she began working for the Portland Transcript in Maine but was soon publishing her first collection of poems. Forest Buds from the Woods of Maine was published in 1856 using her pseudonym – Florence Percy. The book sold well and she was able to finance a trip to Europe from 1859 to 1860. While the trip was partly for pleasure she was retained as a journalist by the Transcript and the Boston Evening Gazette.
While in Rome she was working on her famous poem Rock Me to Sleep and she offered it to the a newspaper in Philadelphia – the Saturday Evening Post and they published it, establishing her reputation as a poet. Additionally she had poems published in the Atlantic Monthly. Not long before leaving Rome she met BenJamin Paul Akers and married for the second time. Akers was a sculptor from Maine but, tragically, he died a year after they were married.
Back in the United States Elizabeth changed occupation for a while, working for the government in Washington D.C. in a clerical role between the years 1863 to 1865. Her third marriage, to Elijah M. Allen, took place in 1865 when she was still only 33 years old but there was still time for more published poetry. The collection called Poems came out in 1866 under the name Elizabeth Akers, and this collection included Rock Me to Sleep. Here is the poem, a heartfelt plea to her mother to let her be a child again, even if only for one night: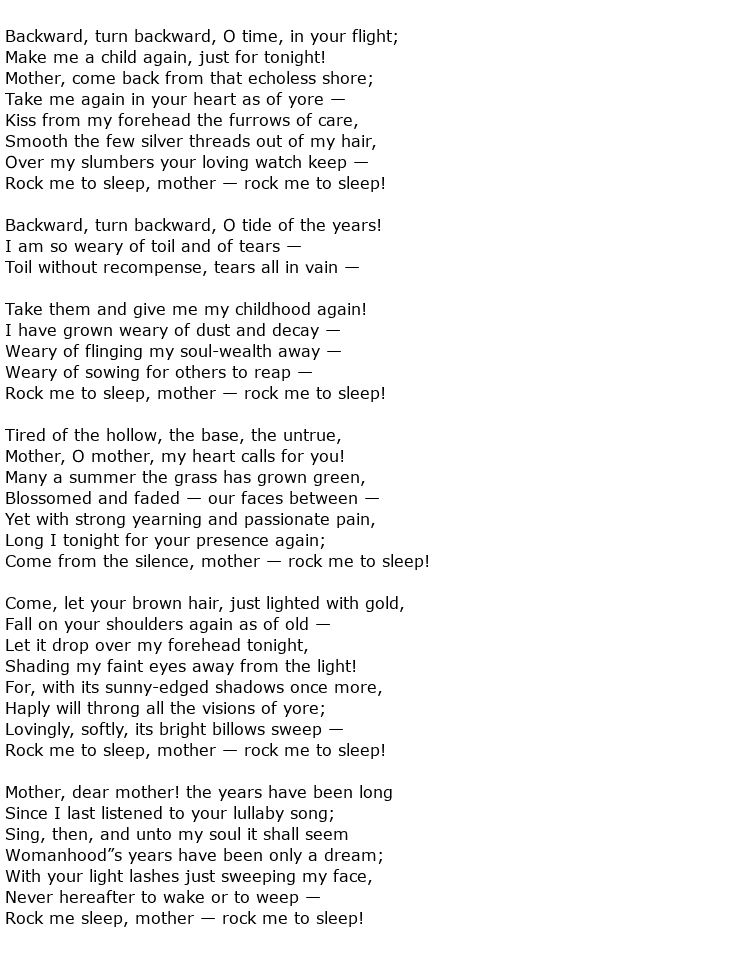 Three more poetry collections were published: Queen Catherine's Rose (1885), The High-Top Sweeting (1891), and The Ballad of the Bronx (1901). In her later life she held the post of literary editor at the Portland newspaper called the Daily Advertiser. After seven years she moved, with her husband, to Tuckahoe in New York and remained there for the rest of her life.
Elizabeth Akers Allen died on the 7th August 1911, aged 78.