Ellis Parker Butler was a much-loved American poet, essayist and short-story writer whose best known piece of work is a cautionary tale called



concerning an over-fussy railway station master who insists on charging too high a rate for the carriage of two small domestic pets and ends up with a house overrun with the animals. Butler's literary output was considerable, running to in excess of 30 books and some 2,000 short pieces which were often published in newspapers and magazines. A lot of his writing was of a humorous nature and was very popular at the time.
He was born on the 5th December 1869 in the small town of Muscatine, Iowa. His parents were poor and Ellis grew up dreaming of a better life, perhaps as a famous writer. He was already writing simple verse at the age of six and later he was influenced by an English teacher, as well as his father and an aunt with whom he lived briefly. He loved to read the work Mark Twain composed along with other humorous writers of the day.
Following his school days he worked around his home town for ten years in a variety of establishments including wholesale grocery. In his spare time he composed short poems and articles for a magazine called the Midland Monthly. Seeking to make a living as a writer he moved to New York City in 1897 living in Flushing, Queens. He soon got into editing trade journals and, in collaboration with a man named Thomas Cawthra, he set up the



trade journal in 1900. The previous year he was married.
His amusing short stories were gradually finding their way into magazines and some featured a character by the name of Mike Flannery, an Irish railway station agent, whose most famous adventure became Butler's most famous piece of work. In his most famous work the agent refuses to allow the carriage of two guinea pigs at the "small animal" rate, insisting that they be treated as livestock. When the intended recipient refuses to pay the officious railway man ends up with the creatures at his own house and they soon begin to reproduce at a rapid rate.
Starting as a magazine article this story became so popular that it appeared the following year, in 1906, as a best-selling small book, making over a million sales. Butler made so much from this that he was able to go with his family to take a long trip to Europe.
His considerable literary output included two short poems comparing what it was like for a boy from a rich family at Christmas with that of a poor boy. The poems are called



and are reproduced here: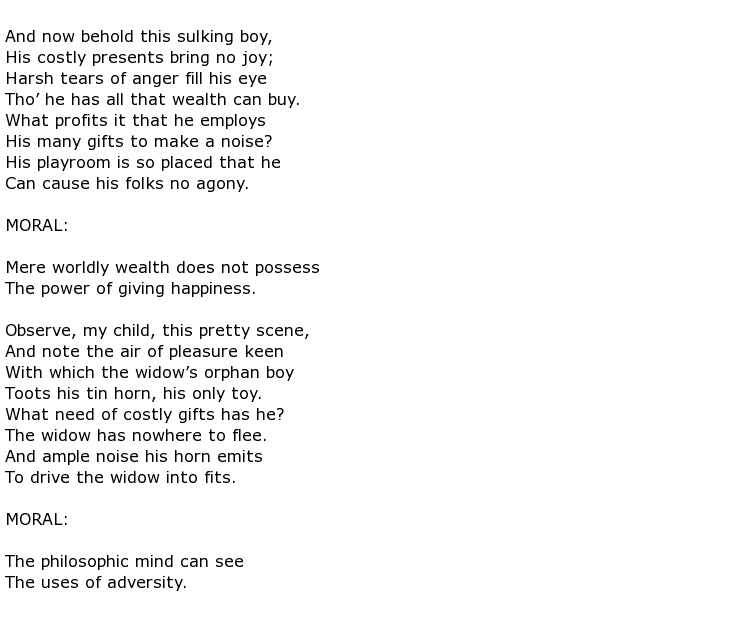 Butler was actually only a part-time author and was a contemporary of other famous American writers such as Edgar Rice Burroughs, F. Scott Fitzgerald and Mark Twain. The rest of his time was taken up working as a banker; he took up a directorship of Flushing National Bank. He was also heavily involved in arts and literature activities around New York such as the Dutch Treat Club and the Authors League of America. He was a founding member of both organisations.
His health was poor during his later years and he spent a lot of time at the family's summer residence in Massachusetts. He contracted cancer which, added to the complication of diabetes, meant that his days were numbered.
Ellis Parker Butler died on the 13th September 1937 at the age of 67.