Emily Holmes Coleman was an American-born poet, novelist and diarist of the 20th century who lived much of her life in France and England. In 1930 she wrote one remarkable novel called The Shutter of Snow which was the story of a woman incarcerated in a mental hospital. She used her own experience of being similarly confined as valuable research for the novel.
She was born Emily Holmes on the 22nd January 1899 in Oakland, California. She was educated at Wellesley College, graduating in 1920, and within a year was married to a psychologist. The couple went to live in Paris in 1926, by now with a child in tow, and Emily found a position with the Paris Tribune magazine, the European edition of the Chicago paper. She was editor of the society columns. She was also a writer of poetry, short stories and articles which found their way into magazines such as transition.
One of the things that she is best known for is an account of her time in Europe over many years written in a "Diary of an ex-patriate American" format, covering her experiences in both France and England from the 1920s to the 1940s. She had many friends and colleagues in the art and literary world over this time including the socialite and major art collector Peggy Guggenheim who invited her, and others of course, to regular meetings at her grand country house, Hayford Hall. This group of visitors became known as the "Hayford Hall Circle" and included the likes of Antonia White, Edwin Muir and John Holms.
While the diary entries contained factual snippets about famous people, they were also a mirror of her own life and anxieties suffered along the way. She seemed to live her living constantly striving to be a better writer, a more passionate lover and to attain a higher state of spiritual being. She was on a "spiritual odyssey", leading to her conversion to the Catholic church in 1944. Her growing faith led to entries such as the following, dated the 5th May 1947:



Curiously, although she wrote a great deal, she only had one book published – the semi-autobiographical novel The Shutter of Snow (1930). This was much praised by the critics who realised that this "authentic and vivid" tale was written from the heart. Her poems and articles, of which there were many, only came to light in magazines such as transition and New Review, amongst many others. The influence of her newly-found Catholic faith led to descriptions of her work being "mystical" and "fanatical."
Here is a good example of this kind of material. It is the opening verses of a poem called The Liberator and appears to be based on her mental hospital experience: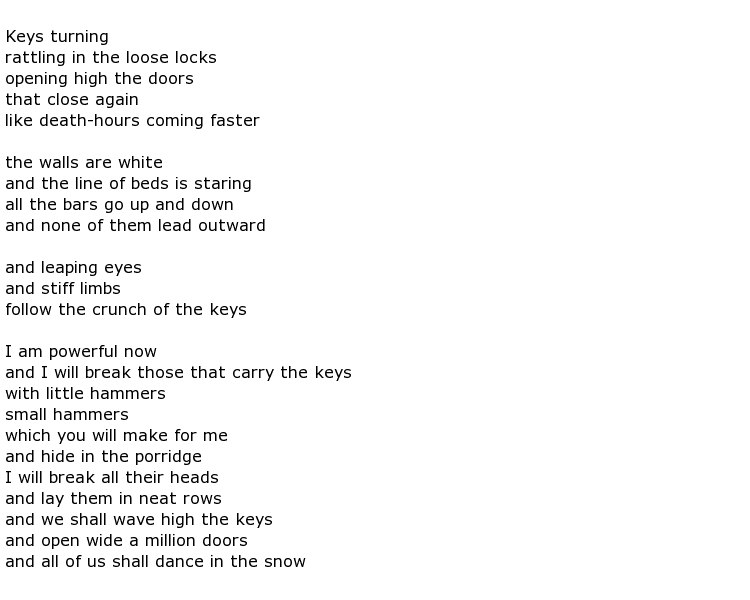 She was married for a second time to a rancher from Arizona but this lasted only from 1940-44 but this was disavowed following her religious conversion. From this time the church seemed to be her guiding light and she became much involved with the Catholic left wing. She took up residence in communities run by the church and was, at the time of her death, under the care of nuns at The Farm in Tivoli, New York.
Emily Holmes Coleman died on the 13th June 1974 at the age of 75.