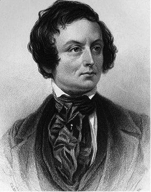 Epes Sargent was a 19th century American poet, playwright, novelist and newspaper editor. Probably his best known popular piece of work was the poem A Life on the Ocean Wave which was set to music and turned into a jaunty nautical song which is still sung to this day.
He was born on the 27th September 1813 in Gloucester, Massachusetts. His father, also called Epes, was a ship master. He lost his mother when aged six, just after the family had moved to Roxbury. He had to interrupt his education at the Boston Latin School in order to accompany his father on a six-month trip to Russia but he was able to return to school as soon as they got home. His literary talents led to him setting up the school's first literary journal. Not surprisingly he included accounts of his trip to Russia in there.
Going on to Harvard afterwards, he also contributed articles to the college magazine, known at the Harvard Collegian. This publication had, coincidentally, been set up by his older brother John Osborn Sargent. Epes began working on the Boston Daily Advertiser as an editor in 1831 and followed this with a better assignment, as Washington D.C. correspondent at the Daily Atlas, also in Boston. His work at the Atlas led to his collaboration with the author Samuel Griswold Goodrich who, writing under the pseudonym Peter Parley, set out to embellish already written biographies of the founding fathers of the United States with "fancy and legend".
Sargent was also busy writing poetry and plays and his first production was staged at the Tremont Theatre, Boston on the 13th February 1837. It was a historical, romantic drama called The Bride of Genoa, set in 1593. Other plays followed, such as a tragedy called Velasco, which was performed in both New York and London with varying success. The writer Edgar Allan Poe described it as "a good tragedy……but its merits are very inconsiderable". Around the same time he penned the poem A Life on the Ocean Wave, inspired while out walking along The Battery in New York City. He marvelled at the view of all the ships coming into the harbour. His friend Henry Russell set it to music and it was adapted by the British in 1882 as the regimental marching tune for the Royal Marines. The original poem is reproduced here: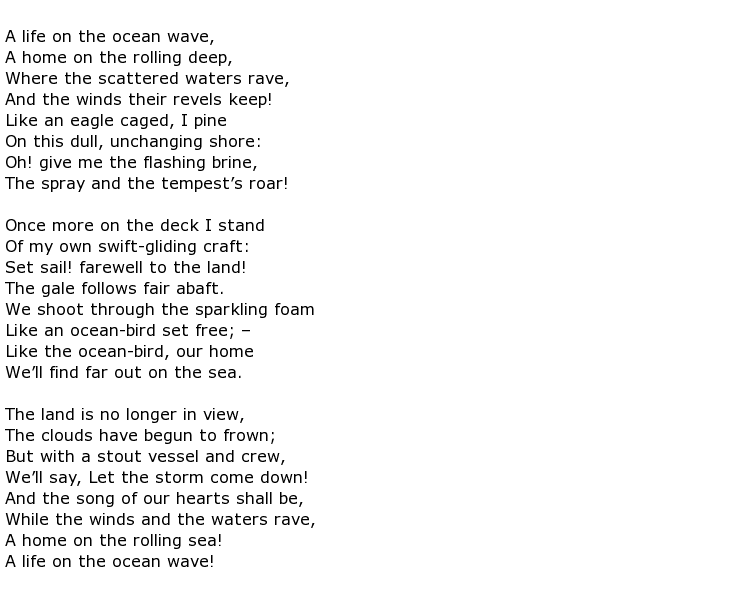 Shortly after writing this Sargent moved to New York and continued his association with a number of periodicals and newspapers. He even tried to set up his own literary magazine but Sargent's New Monthly Magazine did not last long, up against much competition. His first collection of poetry came out in 1844 under the title The Light of the Lighthouse and Other Poems and he followed this with his first novel. Fleetwood, or the Stain of Birth was his take on American life and was published a year later.
Like most writers he sought out the company of fellow poets and novelists and he was a member of the "Knickerbocker Group", other members including the likes of Nathaniel Parker Willis and William Cullen Bryant. He was a popular and much-respected figure in literary circles and his output of work was substantial, adding a number of school books to his list of achievements.
Epes Sargent contracted oral cancer and died in Boston on the 30th December 1880, aged 67.