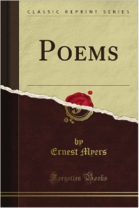 Ernest Myers was an English poet, university lecturer and translator of ancient Greek and Roman texts.
He was born Ernest James Myers on the 13th October 1844 in the north western town of Keswick, the son of a clergyman. His education was completed at Cheltenham college before going up to College in Oxford. Here he was an exceptional student of the classics and, in 1865, was awarded the Gaisford Prize. At the end of his time at Balliol he gained a first class honours degree in Classical Moderations. Three years later he was took up a fellowship at Wadham College and secured a teaching post there which ran until 1871.
Following this he relocated to London where he decided to join the Inner Temple and was also considering a answering a call to the bar. A career in the legal profession did not appeal to him though and he, instead, decided to try his luck as an editor and translator of ancient texts, a path which brought him great success. He also put his energies into joining organisations including the SPWC. He did voluntary work for the Charity Organization Society and also served a period as Secretary to the London Society for the Extension of University Teaching. Additionally, he became a founder of the Hellenic Society, a group dedicated to the promotion of Greek literature, language, history and art covering a wide time span from Ancient to Modern.
His own literary output was considerable ranging from poems that were published in



and he followed this with a collection of all his own simply called Poems, published in 1877. He used his knowledge of ancient times with a collection called



and other collections followed over the coming years. He had at least five volumes of poetry published in all, mostly concerning ancient Greek or Roman subjects. He also translated the Odes of Pindar in 1874 and worked on a collaboration on a major project in order to translate Books XVII-XXIV of Homer"s Iliad. In 1890 he produced a piece of work called



which was about the statesman who had served as Chancellor of the Exchequer between 1830-34 under both Lord Grey and Lord Melbourne.
Myers was married in 1883 and his wife Nora produced five children. Their eldest son was killed towards the end of the First World War, in 1918, and it is believed that he wrote a poem about him called Infant Eyes. Here is the poem in full, an evocative piece which clearly indicates a parent's grief for a child lost: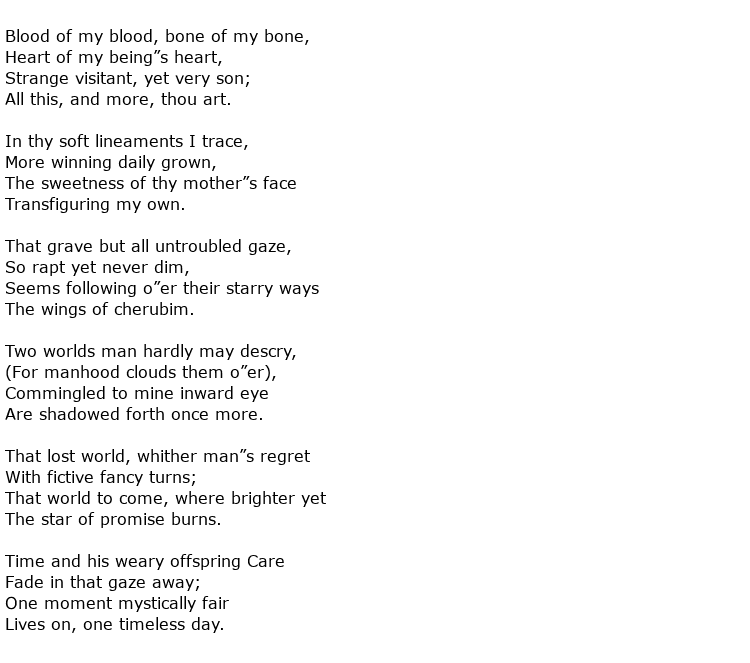 The family eventually moved out of Central London, taking up residence at Chislehurst. Unusually for a writer, Myers was physically active for most of his life and was a great sportsman. He loved to play golf and tennis and was an avid swimmer, horse rider and walker.
Ernest Myers died in Sussex on the 25th November 1921. He was 77 years old.