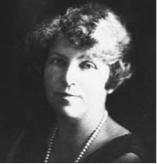 Ethel Turner was an English-born writer who moved to Australia when she was six years old. She became famous for her poetry and novels but was best known for her children's stories.
She was born Ethel Mary Burwell on the 25th January 1873 in the South Yorkshire village of Balby which is close to Doncaster. She had a difficult childhood, losing her father when she was only two. Her mother remarried, to a man named Henry Turner, and Ethel took her step-father's name and was known as Ethel Turner professionally for the rest of her life. Her mother though was soon widowed a second time and then, seeing no future for her family in England, she took her children to Australia in 1879. She married once more, this time probably out of dire financial need, and the family settled in Sydney.
Ethel went to school in the city, firstly to the Paddington Public School. She then became one of the original 37 pupils at the newly opened Sydney Girls High School. She produced a school magazine here called Iris, along with her sister Lilian. On leaving school the two girls followed this up with a monthly periodical called the Parthenon. It was moderately successful and ran for three years with Ethel's main contributions being the 'Children's Page' and serialised stories for adults on a romantic theme.
She clearly had a future as a writer and had a story published in the Sydney Bulletin in 1893. She also wrote a regular 'Children's Page', firstly with the Illustrated Sydney News and then, writing under the pseudonym Dame Durden, in the Australian Town and Country Journal up to the time of its closure in 1919. She found the time for marriage when, at the age of 23, she married a lawyer named Herbert Curlewis and they set up home in a newly-built house overlooking the harbour at Mosman. Ethel would spend the rest of her life living in this house which was called Avenel.
It was a happy marriage and they had two children together, living in a location they both loved. Ethel spent time creating her garden and even wrote a novel on the subject called The Ungardeners in 1925. She was an active member of Sydney's literary circles and her work eventually won her many awards.   The best known piece is actually her first novel which literary historians now consider to be a classic in children's literature. It was called Seven Little Australians and was written in 1894. It's a family saga about a large family of unruly children growing up in Australia and she continued the story with two further novels. Television and film companies in Australia and the United Kingdom eventually brought the characters to life in both feature film and TV series form.
Another notable title was Three Little Maids, published in 1900, which was an autobiographical novel outlining her own family's migration from England. Poetry was of much less significance to her than her novels and short stories but she produced a number of charming pieces, often aimed at children. One good example would be A Trembling Star and the opening verses are reproduced here:


Ethel Turner's long and mostly happy life as one of Australia's best-loved authors ended on the 8th April 1958. She was 85 years old.