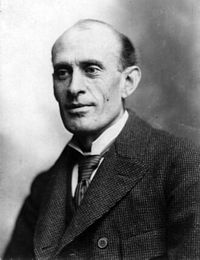 Born in 1850 in St Louis, American writer Eugene Field was most well-known for his children's poetry and as a witty essayist. He was barely 6 years old when his mother passed away and he was brought up by a cousin in Massachusetts. His father was a lawyer and most notably responsible for representing Dred Scott, a slave who sued for freedom, a case that was said to be the starting point for the Civil War that would rage through America between 1861 and 1865.
In the later days of his youth, Field went to Williams College in Massachusetts but when his father died he left and ended up at the University of Missouri where he tried a number of studies including law, all without much success. He was more well-known for his wit and conversational ability than his ability to study and he never graduated.
After a short trip to Europe, Field returned to Missouri and became a journalist with the St Joseph Gazette. It seemed he had found his vocation and was quickly promoted to editor. It was about this time that he married Julia Comstock, who would then become the mother of his 8 children. Over the next few years he wrote for several newspapers eventually moving to Denver where he wrote for the Tribune there.
In 1883, with a wide following for columns such as The Tribune Primer, he was enticed to Chicago where he wrote his own daily piece for the Chicago Morning News. Satiric essays that lampooned the average Chicago citizen for their materialism didn't go down that well but his poem Little Boy Blue won widespread acclaim and was a more sentimental offering than his weekly columns.

The success of the poem seemed to prompt a great outpouring for Field and The Little Book of Western Verse followed shortly after in 1889. Much of his verse was aimed at children and his choice of subject matter may have reflected his enduring love of practical jokes and flippant humor. To outsiders, his poems all appear to be more about childhood than for children directly but manage to cross those two boundaries and appeal to a wide audience.
A second book of verse came shortly after in 1892 and two more volumes that touched on childhood called With Trumpet and Drum and Love Songs of Childhood. Much of the humour in his poems is encased in The Duel, also titled The Gingham Dog and the Calico Cat, which was one of the most popular children's poems throughout the early part of the twentieth century.

At the height of his writing talent, Eugene Field died of a heart attack in 1895 at the age of just 45. A number of his books have been made into films over the years and his poetry is still widely read, a testament to his enduring appeal to people of all ages over the years.