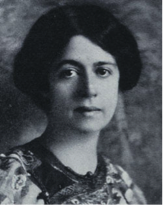 Eunice Tietjens was an American writer, lecturer, magazine editor and journalist. Her literary output was prolific, with at least four volumes of poetry alongside novels and children's stories seeing publication.
She was born Eunice Strong Hammond on the 29th July 1884 in Chicago, the daughter of an artist. Her education was provided at various establishments in Europe and this will have given her a taste for travel. Throughout her lifetime she lived all over the world – in America, Europe, the Middle East and the Far East. She was in France during the First World War, working as a war correspondent for the Chicago Daily News. Her poetry had already found a place in a magazine called



and she impressed the owner – Harriet Monroe – sufficiently to be offered an editorial position on that publication. This lasted for some twenty five years. The two women had a close friendship, both personal and professional, and Miss Monroe later described her friend as follows:


In 1924 she documented some of her Far Eastern experiences in a collection of short stories called



which contained sometimes graphic descriptions of the people who lived there and their living conditions. A notable example was where she told of the terrible storms around the island of Formosa that would usually be fatal for sailors in those parts. Their ships would be dashed onto the rocks and any survivors that made it ashore would usually be captured by



What would have shocked readers at the time was her suggestion that these were cannibals who would take the sailors' heads as trophies and would happily eat their bodies.
She became Mrs Eunice Tietjens when she met and married the American Paul Tietjens in Paris. He was a composer responsible for such projects as the music for The Wizard of Oz. It was a short-lived union of only ten years, but they had two daughters together. She married for a second time a few years later and had another child.
Tietjens was probably as successful a magazine editor as she was a poet. Her style contrasted with that of Monroe in that she was sometimes overly protective of aspiring new writers, treating them with tenderness when maybe she should have been firmer in her rejection of their work. Throughout this time though she continued to write her own work with her four volumes of poetry scanning thirteen years. The first came out in 1917 with the long title



She followed this with



 in 1919, Leaves in Windy Weather in 1929 and, finally, China was published the following year.
Her work was vividly descriptive, a good example being her poem called The Steam Shovel which details the view from her window of a gigantic piece of machinery digging up the streets below. She sees not a mechanical beast but a real, living monster snorting and spitting as it does its work. Here are the opening two verses of this piece: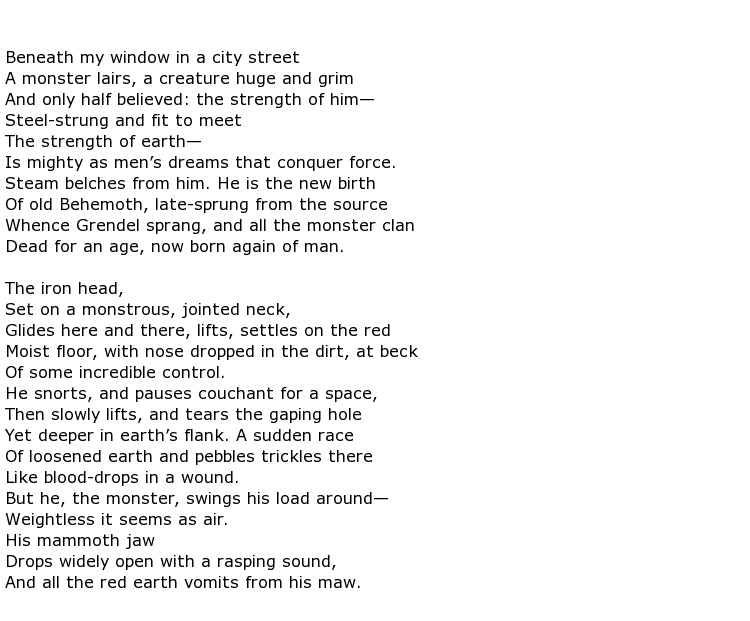 As well as writing novels such as Jake (1921) she also translated stories from French and Spanish into English. Modern literary reviewers tend to ignore her work, despite the volume being considerable. She wrote extensively about Asian culture, using her own experiences of travel throughout these regions to good effect. She seemed to be equally at home writing in rhyming stanzas as when writing in free verse.
Eunice Tietjens died of cancer in her home town of Chicago on the 6th September 1944. She was 60 years old.