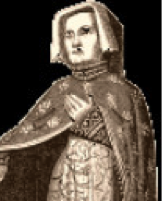 Eustache Deschamps, who is sometimes referred to as Eustache Morel, was a 14th century French poet. He was also appointed as a diplomat by King Charles V, travelling extensively around central Europe to such countries as Moravia, Bohemia and Hungary. This led to other official appointments in various French locations.
He was born some time during the early 1340s in the town of Vertus which sits in the north eastern region of Champagne. As part of his education he was privately taught versification methods by the poet and musical composer Guillaume de Machaut. He went to university in Orleans, studying law.
He grew up at a time of great turmoil in France with his country seemingly under constant threat of invasion from all quarters. When he was 18 years old he witnessed first-hand the invasion by the English who laid siege to a number of French cities such as Chartres and Reims. All of this led to Deschamps developing a festering hatred of the English and this was compounded when his father died in 1380 and all of his lands were pillaged. Such events inspired him to write poetry where a common theme was anti-English in both his long and short literary pieces.
Some historians have suggested that he was the inventor of the medieval poetic form called the ballade which is quite different to the musical or epic ballad. Over a thousand of these ballades are attributed to him, most of which are quite short. There is a great deal of satire in them, usually at the expense of the hated English. Throughout history invaders have often been seen as beneficiaries of the countries that they occupy (a good example being the Romans of course). However, Deschamps only saw the downside of those that came across La Mer to plunder and ravage his country, usually stealing land from the rich.
He also attacked government officials and members of the clergy who he saw as oppressors of the poor people. Deschamps was sympathetic to those whose lives were blighted, for whatever reason. It should be noted though that not ALL Englishmen were the targets of his scorn and disdain. He was a particular admirer of the writer Geoffrey Chaucer and he wrote one of his ballades in Chaucer's honour. Ballade Addressé à Geoffrey Chaucer, also known as Ballade No 285, praised the Englishman fulsomely as a great poet, philosopher and ethicist.
Although most of Deschamps' work was fairly short in length he did produce one epic piece that ran to over 12,000 lines. The theme of Le Miroir de Mariage was women although, as usual, he introduced a satirical tone to much of this poem. This style can also be found in his Ballade No 2 which was only a few verses long but which attacked his apparent loathing of mustard! It seemed that it was impossible to get a meal anywhere on his travels without the innkeeper or restauranteur adding this unwanted condiment to whatever dish he ordered. Here is the poem: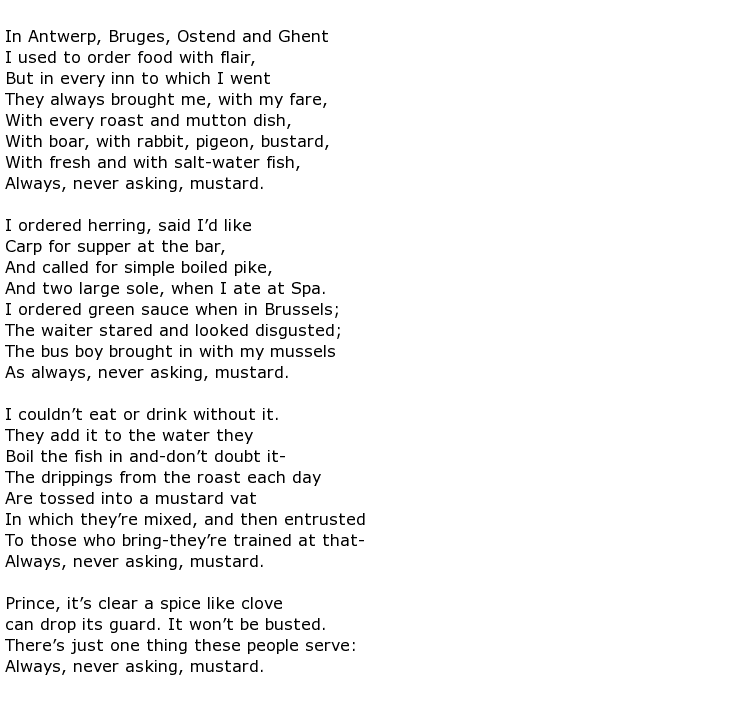 Deschamps was a great exponent of the theory of poetry and, in 1392, his treatise on French verse was published under the title 



He believed that poets should abide by rules when writing their verse, making sure that musical pieces and spoken poetry should be regarded quite separately at all times. He believed that anyone could study to become a musician whereas being a poet was a gift that could not be taught.
No accurate records exist concerning his birth and death but it is believed that Eustache Deschamps was in his early sixties when he died around the year 1406.