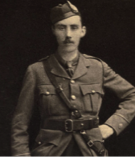 Ewart Mackintosh was a Scottish poet and soldier whose bravery at the Battle of Cambrai in 1917 won him the Military Cross. He was one of the so-called "War Poets" and his work has been compared favourably with that of Rupert Brooke and others.
He was born Ewart Alan Mackintosh on the 4th March 1893 on the south coast of England, in Brighton. However, his family roots were firmly Scottish and it is believed that he was named after the British Prime Minister of the time, William Ewart Gladstone. His grandfather on his mother's side, a preacher, was a good friend of the politician. Ewart went to school at Brighton College and, mindful of his ancestry, studied Gaelic and learned to play the bagpipes during holidays. Further education was taken at St Paul's School in London before going up to Oxford to read the Classics at Christ Church College.
Like many of his fellow students he wanted to join the Army as soon as the First World War was declared but he was initially rejected on the grounds of poor eyesight. It did not take him long to get that decision overturned and he was accepted into the Seaforth Highlanders towards the end of 1914. He was soon on active service but returned to England following a wounding on the Somme in August 1915. He had already begun to write about his experiences of war in a number of poems and, following a raid on enemy trenches in Arras in 1916, he wrote a piece that would become one of his most famous.
Mackintosh, a young Lieutenant, saw some of his men in terrible trouble in no-mans' land and, without hesitation, ventured out to recover them. He personally carried back two of his comrades despite their life-threatening injuries. Both later died but his bravery under fire won him the MC which was awarded on the 24th June 1916. One of the men who died was called David Sutherland and he named this soldier in the poem In Memoriam. It is reproduced here: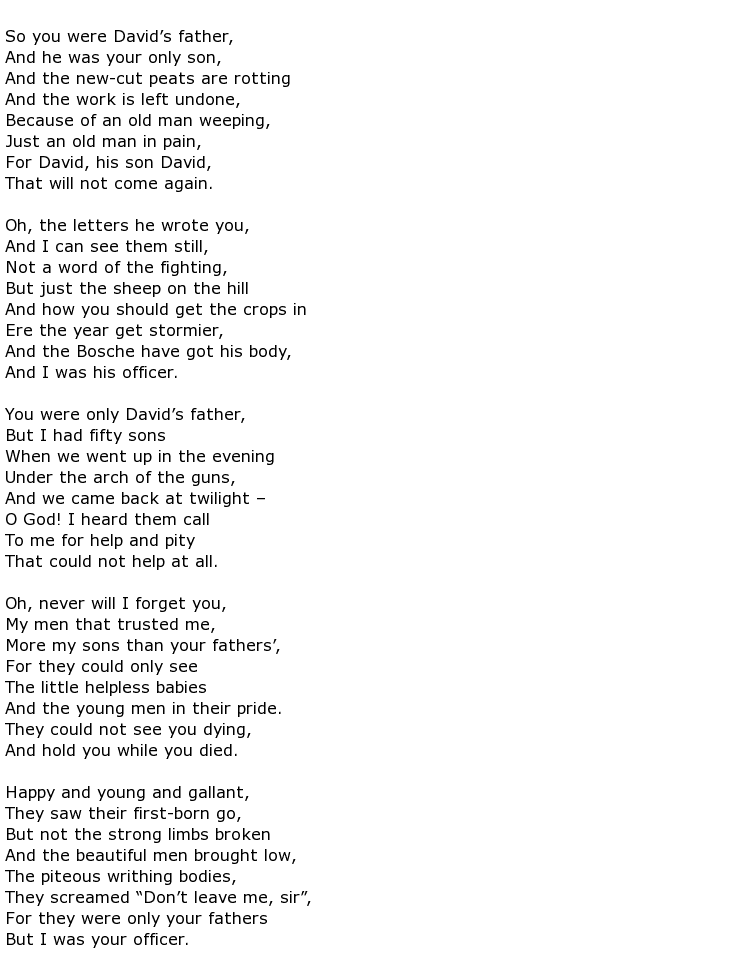 Mackintosh was only 23 at this time, yet some of his men called him father, while others used the affectionate nickname "Tosh". Many of his charges were actually from New Zealand. Despite only having a short life span he managed to produce at least two volumes of poetry.



came out in 1917 and included the poem shown above. Another one in this collection, called



appears to foretell his own demise.
A second volume was published posthumously, in 1918, under the title


Poems in this included one dedicated to his own unit –



and two with the stark titles


.
He also wrote a short story about his time in High Wood called In the Wood and there is an unfinished piece of work called Gold Braid.
Lieutenant Ewart Mackintosh, MC lost his life at the Battle of Cambrai on the 21st November 1917. Tragically he was not actually involved in the fighting but acting as an observer of new tactics including the use of heavy tanks. He was 24 years old.