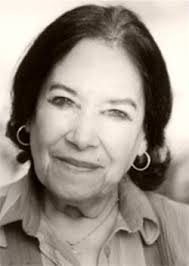 Born in 1917 in Nablus, Fadwa Touqan was one of the most influential poets of her day and wrote extensively about the Israeli occupation of Palestine and the hardship it brought to the people. She was born into one of the most influential and well-known families of the country – her younger brother Ibrahim would become 'the poet of Palestine' though he would die at an early age and her elder brother went onto become the Prime Minister of Jordan for a while.
Coming from an affluent family, Touqan was well educated up until she was in her mid-teens when illness prevented her from going to school. Undeterred, she was tutored by her brother Ibrahim who helped her develop a love of poetry that would last throughout her life.
She experienced a period of self-realization when her stern father died in 1948 and the major changes in borders that were going on throughout Palestine and in her home town of Nablus suddenly took effect.
She became, for a while, a liberated young woman who could suddenly mix freely with her male peers after the Balfour declaration allowed Jewish people to return to Israel and led to an influx of Palestinians back into places like Nablus. Touqan published her first collection of poetry in 1946 under the title My Brother Ibrahim and over the years she would produce works that tried to reveal what was seen as an Israeli invasion and the growth and developing problems of Palestinian politics.
Touquan did not just rail against the injustices of her people, her poetry also criticized Arab society and particularly the way it sought to treat women during the 40s, 50s and 60s. In 1962 she found some escape when she went to England to study at Oxford University and she particularly fell in love with London.

She traveled extensively across Europe for a while but did not really gain an international audience for her poetry until it was translated in the early 80s. Always in her work there was an essence of the loss of her homeland of Palestine even when she was writing about other subjects, particularly in poems such as Visions of Henry that had been inspired by a painting she once saw by William Faulkner.
In 1967, the rule of Israel stretched across to her hometown of Nablus and Touquan became more nationalistic in her poetry, describing the lot of Palestinians who had to queue at border crossings and were searched by soldiers, how houses were often demolished and how children were left in educational limbo because of the uneasy divide between Arab and Jew.

Touquan never married nor did she have any children. Her poetry won many awards across Europe including Italy and Greece though she was often considered by Israelis as being too two dimensional. Her book Alone with the Days did, however, resonate with many Jewish women who saw some connection across the Israeli Palestinian divide. Moshe Dayan, the general of the Israeli army, damned her with faint praise when he said that reading a poem by Fadwa Touqan was like 'facing 20 enemy commandos.'
Touqan died at the age of 85 whilst her hometown faced an Israeli siege in 2003.