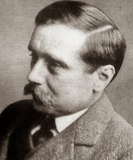 Fitz James O"Brien was an Irish-born writer of the 19th century who emigrated to America in 1852.  His literary output included poetry and what is believed to be amongst the first science fiction stories ever written.  He also dabbled in the writing of plays though to much less a degree.
He was born Michael O"Brien on the 25th October 1826 in Cork, the son of a fairly wealthy lawyer.  While still a young boy his family moved to the mid-western town of Limerick where he went to school before gaining a place at the University of Dublin.  He was showing great writing skills while at college, shown in the poems he wrote at that time with the titles  Loch Ine and Irish Castles.  Both would feature in a collection called The Ballads of Ireland, published in 1856.  Here are the last two verses of his romantic poem Loch Ine:

He decided that a move to England might further his ambitions to become a writer.  He was supported by a substantial inheritance of some £8,000 but he managed to squander this quite quickly with little to show for it.  The World's Fair was being held in London at that time (1851), celebrating industrial advances, and O'Brien edited a magazine connected with this event.  Once this was over he decided to move to America while, at the same time changing his first name from Michael to Fitz James.
He found a number of periodicals that were willing to publish his poetry, including the New York Times, Lantern and Home Journal.  During February 1853 he started contributing to Harper"s Magazine and his first was a piece called The Two Skulls.  O'Brien had over sixty pieces of work, both in prose and verse form, published in that magazine and he had further success with work being accepted for Atlantic Monthly, Vanity Fair and others.  His work in the world of science fiction soon became popular with readers of the latter magazine and his stories included fantastic tales of the robots turning on their creators and mad scientists and their amazing inventions.  An example of that was The Diamond Lens where a powerful microscope is invented which allows the user to see into an amazing world inside a single drop of water.
O'Brien's imagination seemed to have no limits and his 1859 story What Was It? A Mystery featured what is believed to be the first indication that a man could become invisible.  His prowess as a writer was becoming well known and he enjoyed the company of others in the literary world at regular meetings at dinners held in New York restaurants where he was often the life and soul of the party.  This happy, carefree life was soon to come to an end for many though as civil war erupted in 1861.
Although he was in his mid-thirties O'Brien did not hesitate to join the New York National Guard, fully intending to see active service if given the opportunity.  This came soon enough and he was badly wounded during a battle during February 1862.  His wounds were so severe that he was unable to recover and tetanus gradually took hold while he was lying in his hospital bed.
Fitz James O'Brien died in Cumberland, Maryland on the 6th April 1862 at the age of 35.
A collection of his work was published posthumously by his friend William Winter with the title: