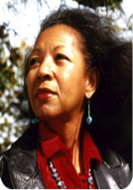 Florence Anthony was a 20th century, mixed-race American poet who worked hard to create the image of a hard-hitting, uncompromising writer who was never afraid to delve into the murky worlds of sexual exploitation and domestic violence. How much of this is semi-autobiographical is open to conjecture and it is easy to speculate that something (or someone) may have driven her to write the material that she wrote. She was recognised for her work with the award of a number of poetry prizes and fellowships from the Guggenheim Foundation and the National Fellowship for the Arts, among others. At various times she was engaged as a visiting poet and associate professor at a number of universities and she was also contracted to teach at the Oklahoma State University. Away from the literary world she spent some time in New York City, dealing in antiques and was also a jewellery designer.
She was born on the 21st October 1947 in the Texas town of Albany. Although her birth name was Florence Anthony she stated much later that she never liked the name and, in fact, she took steps to change it legally as soon as she was old enough to do so. Her mother had, apparently, fallen pregnant to a Japanese man that she met at a streetcar stop somewhere. She described it as "a scandalous affair" and, curiously, adopted the Japanese name of Ai Ogawa, although she declared that she wished to be known simply as "Ai" from then on.
Ai was actually quite a mixture of races with Japanese, Choctaw-Chickasaw, Cheyenne, Comanche, Black and Irish all in her DNA somewhere. She spent her formative years in Tucson, Las Vegas and San Francisco and achieved a BA in Oriental Studies from the University of Arizona. During the 1960s she turned away from the black activist movements of the time, preferring instead to explore her Japanese heritage. She had a keen interest in Buddhism and a passionate interest in poetry yet, modestly, considered herself as "simply a writer", specialising in dramatic monologues which were often written in the first person for at least the first twenty years of her writing career. She explained her reasoning for this simply as "….to write in the first person was always the stronger voice to use when writing". Equally, the dramatic monologue was:

Her writing though was often described as bleak and uncompromising, sometimes brutal, with a strong feminist bent. Her first collection, for example, was called Cruelty and was published in 1973. This work featured:

She also wrote of nightmare scenarios and extreme acts of violence, as evidenced in the extreme bleakness of her poem Killing Floor. Two extracts are reproduced from it below: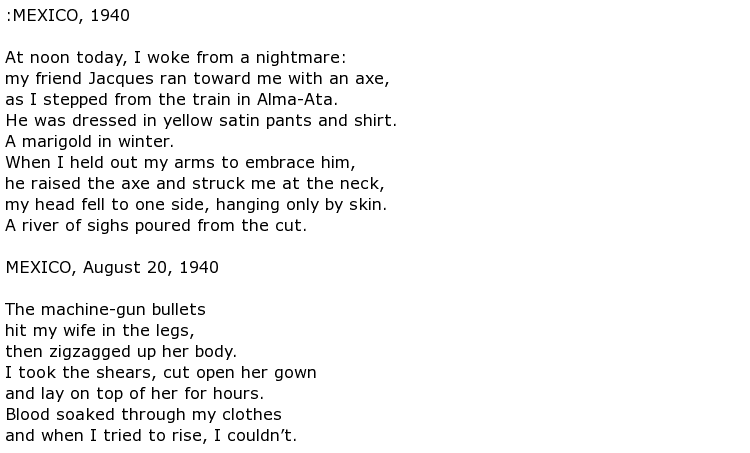 Three later collections – Sin (1986), Fate (1991) and Greed (1993) – contain imagined monologues from real characters in American history. Effectively they read like voices from the graves of people like Elvis Presley and James Dean, J Edgar Hoover and Jimmy Hoffa. One critic suggested that what these characters were "saying" told the reader more about the American psyche than about the real figures themselves. Dread, in 2003, contained:

…and, according to the NY Times book reviewer, the poetry within has:

Ai taught at the Oklahoma State University until she became ill with cancer and died on the 20th March 2010, aged 62.